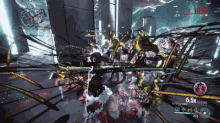 Guardsmen are heavily augmented Grineer melee units wielding the
Amphis staff. They can most commonly be found in the Grineer Shipyards on Ceres.
Claimed to be "Vicious Melee Fighters" by the Lotus, the Guardsmen are true to their description.
Like traditional Melee units, they will often use rush tactics and overwhelm their targets with a quick flurry of strikes.
These and the Bailiffs are the only type of Grineer units that can parry attacks in front of them, which makes solo battles difficult as these would simply chase their lone target.
Excalibur's Radial Blind and Inaros' Desiccation make them exposed to finisher attacks.
These are based on opinions and may not be 100% true. These should be viewed as advice for finding the enemies until better facts are proven.
Prosecutors are elite Guardsmen hand-picked by Councilor Vay Hek. They have a 100% chance to drop  Javlok Capacitors on death.
Prosecutors are made unique by elemental shield auras that they use. There are four kinds of Prosecutor, one for each of the four base elemental damage types –

Heat

,

Cold

,

Electricity

, and

Toxin

. They are only vulnerable to that damage type in combat, and will take no damage from other damage types including combined elementals like

Radiation

. They also project an aura that provides nearby allied units with the same invulnerability to most attacks except the elemental damage type the Prosecutor is vulnerable to.

In the event that players do not have the necessary elemental damage to attack Prosecutors, they are also vulnerable to

Slash

damage, though not to the same degree as the element they are weak to.
Accurate and fast-firing weapons – like the Vaykor/ Marelok with the  Gunslinger mod equipped – are still capable of dealing enough damage with headshots that the Prosecutors can be felled in a split second. Using

Cold

damage's Freeze status effect will significantly aid landing headshots.
Void Beam can also deal damage to Prosecutors of any type.

Prosecutors are likely to spawn after alarms have been triggered.
Prosecutors can share their immunity buff with Tenno should they be allied with the Tenno, such as when summoned through  Nekros's Shadows Of The Dead or during an Invasion when the player has sided with the Grineer.
Prosecutors are considered Eximus units for all purposes (for example, dropping Carbides on the Grineer Shipyard tileset).
"Ah, have you come to make a donation to my newest 'enterprise'...?"

Patch history is needed. Click here for instructions.
Community content is available under
CC-BY-SA
unless otherwise noted.