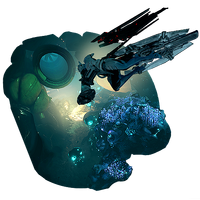 The Grineer Sealab is a planetside tileset introduced in Update 16.5 with the Operation: Tubemen of Regor event, and is the default planetside tileset for Uranus. Taking place on a Grineer underwater research facility, this tileset features both artificial structures intermixed with oceanic strata and views of the ocean. It also features vast underwater areas which have to be traversed using Archwings, allowing for three-dimensional submarine combat. Nodes that contain the tag Submersible will feature said underwater areas, and cannot be entered if a player has no Archwing equipped.
This tileset can also be found on Earth as a secondary planetary environment, but Archwings cannot be used in water areas.
Unique Enemies
Edit
Environmental Hazards
Edit
Electrified Water
Edit
Similar to the Orokin Derelict tileset, certain tiles can feature flooded rooms with electricity charging through the water, which slowly deals

Electricity damage to any units that stand upon it with a chance to proc. The electric current can be turned off by deactivating a large power console within the room.
Gashing Gears
Edit
In certain rooms, gears will be exposed from the floor, spinning rapidly as they work. Standing on the gear not only flings the player in a given direction but also inflicts

Slash damage; the slash damage may not seem lethal, but caution should still be taken. A small bridge is always available to avoid touching the gears, although jumping over is another method.
High-Pressure Vents
Edit
Found on underwater segments, these natural vents, seen as conical bumps on walls with large yellow craters, will periodically eject high-speed water jets that can deal damage to passing players. Larger vents can be found directly underneath large pools of water that serve as entry points into underwater levels, which can eject large volumes of water up the pool; players caught in said eruptions while underwater will be forcefully ejected out onto dry land.
These large, red mines can randomly appear in any location while underwater, and will detonate upon contact with players, dealing
Blast damage and proc within a small radius. These mines can be destroyed by using weapon attacks or Archwing abilities.
Conclave Maps
Edit
There is currently 1 map for Conclave from this tileset.
Patch History
Edit
Update 24.3
Fixed enemies not spawning correctly in the Grineer Sealab Exterminate tileset.
Grineer Sealab doors now displays a distinctive Icon to indicate it needs to be hacked in order to proceed.
Drekar Hellions will now spawn on Uranus Survival missions.
The Uranus Underwater Lab tileset has been expanded:

Spy Missions have been added to Umbriel and Rosalind, complete with its own unique tileset and Spy Vaults.
Additional tiles have been added to further expand Underwater Sealab tileset.