ENERGY




75




KEY


3 

Fire Blast


Slam the ground to create a wave of plasma that incinerates nearby enemies and forms a persistent ring of fire. Add heat damage to weapons by firing them through the ring.

Strength

:66 / 100 / 141 / 200 (wave damage)
37 / 112 / 150 / 225 (ring damage)

Duration

:

9 / 12 / 15 / 20 s

Range

:

N/A

Misc

:5 / 10 / 12 / 15 m (wave radius)
4 m (ring radius)
100% (status chance)
50% (bonus weapon heat damage)
Ember slams the ground, creating a wave of fire that expands outwards to a radius of 5 / 10 / 12 / 15 meters, dealing 66 / 100 / 141 / 200

Heat

damage with a 100% status chance to enemies that make contact with it, and pushing them back. A ring of fire 4 meters wide and 1 meter thick is also created and lasts for 9 / 12 / 15 / 20 seconds. Enemies that linger within the ring's flames are dealt 37 / 112 / 150 / 225

Heat

damage per second.

All damage is affected by Ability Strength.
The fire ring bypasses obstacles in the environment, but the expanding wave's effects do not.
Enemies damaged by the expanding wave suffer knockdown and are violently pushed back.
Damage from the ring is only inflicted within the flames. Enemies are not damaged in the ring's center.
Ring duration is affected by Ability Duration.
Wave radius and ring radius are not affected by Ability Range.

Shooting through the flame ring grants +50%

Heat

damage.
Can be used while jumping, sliding, flipping, wall-running or wall-clinging.
Has a cast delay of about 0.7 seconds.
Can stack with multiple casts.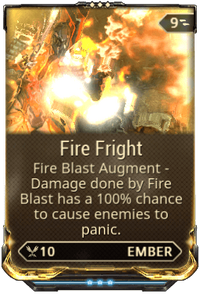 Main article: Fire Fright
Fire Fright is a Warframe Augment Mod for

Ember that adds
Heat status chance to the stationary ring of fire created by

Fire Blast.
Perfect for placing around the cryopod in Infested Defense missions.
Can be used as protection, when you're reviving a downed teammate in Infested missions.
Input table not loaded. Javascript Not loaded
Result table not loaded. Javascript Not loaded
Sometimes an enemy may take 2 damage ticks per second instead of just one.
The value for the damage in-game is incorrectly stated as only 150, while both the wave and ring damage are higher.
Community content is available under
CC-BY-SA
unless otherwise noted.