Finisher attacks are special melee attacks that have a custom animation and deal a very high amount of damage. For the available types of finishers see below.
While in Stealth, the weapon's level will affect finisher's damage. See #Stealth Attack.
All weapon types have individual finisher animations. Heavier weapons tend to perform this action slower than lighter weapons.
Players performing finishers are invulnerable for the duration of the animation.
Additionally, Finisher attack damage is dependent on the type of melee weapon used and can be increased by  

Finishing Touch

as well as several Ability Augments (e.g.  

Excalibur

's  

Radiant Finish

).
( 

Primed

)  

Fury

,  

Gladiator Vice

,  

Quickening

,  

Arcane Strike

and the weapon type influence the animation speed of the finisher. This caps at a 33% faster animation with +50% attack speed.  

Berserker Fury

and the weapon's base attack speed do not affect animation speed.
Damage multipliers from finishers factor total weapon damage, equipped mods (including critical chance and critical multiplier mods) will also affect a finisher's final damage.
On some enemies (particularly non-quadrupedal and nonbipedal enemies) it is not possible to use a finisher, these include Rollers, Ospreys, Cameras and Turrets.
Examples of finisher moves can be found in the gallery page.
Ground Finisher
[
]
| | |
| --- | --- |
| Combo | Aiming at Downed Enemy + Melee |
Execute knocked-down enemies. This attack is performed upon moving close to a downed opponent, aiming your crosshair at the target and pressing the melee attack button. This will not work on most bosses. This attack often will initiate even when not looking down at an enemy, but when contacting an enemy who has been knocked down.
Ground Finishers do not inflict  

True

Damage, but rather retain their damage spread as normal. As a result, they are not considered Finisher attacks for some in-game challenges such as Nightwave daily challenges.
Ground Finishers deal a multiple of the weapon's damage. Different weapon types gain different damage multipliers: [

Expand

]
Stealth Attack
[
]
Main article: Stealth#Stealth Damage Bonus
| | |
| --- | --- |
| Combo | Approach unalerted enemy from behind + Interact button |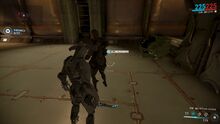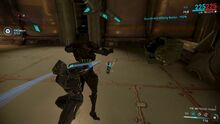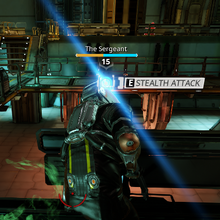 As long as an enemy is unaware of the Tenno presence, a stealth attack may be executed on them. To perform a stealth attack, the player must approach an enemy from behind and activate the stealth attack prompt.
Stealth Damage Bonus = 1 + 0.2 × Weapon Rank
Stealth Attacks have their damage fully converted to  

True

Damage.
Stealth Finisher Damage = Melee Weapon Damage × Melee Type Damage Multiplier ×(1 + Stealth Damage Bonus)
Elemental and Physical damage mods only apply half of their bonus before being converted.
Stealth Finisher Damage can also be crit:
Stealth Finisher Damage = Melee Weapon Damage × Melee Type Damage Multiplier ×(1 + Stealth Damage Bonus + Critical Multiplier)
Damage value pop-ups always appear yellow, identical to critical hit damage values (even if the stealth attack did not crit).
Few Bosses, such as The Sergeant, can be stealth attacked.
Rapier front and back finishers proc  

Slash

.

These slash procs only receive a 4x multiplier instead of an 8x.

Stealth Attacks deal a multiple of the weapon's damage. Damage multipliers for each weapon type are as follows: [

Expand

]
Front/Back Finisher
[
]
| | |
| --- | --- |
| Combo | Vulnerable enemy + Interact button |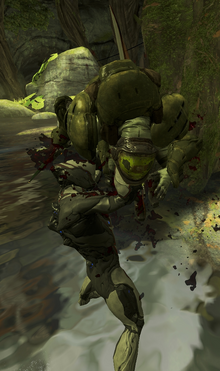 Through certain abilities and attacks even alerted enemies can be made vulnerable to finisher attacks. Without a prompt the player can perform a finisher on the enemy, if close enough.
Enemies in this stunned, vulnerable state also take increased damage through the stealth damage bonus.

However they do not grant the affinity bonus of normal stealth kills, if they were alerted beforehand.
If they were unalerted when being affected by these effects, they will stay that way for the duration of the stun or blind even when attacked.

Damage conversion to  

True

Damage applies just as for Stealth Finishers.
Even if the enemy remains in a stunned or blinded state, a finisher can only be executed once per enemy until they are made vulnerable again.

 

Inaros

's  

Desiccation

can attack the enemy multiple times during the duration.
Stealth Finisher on Nox can also be multiple times.

While most melee weapons by themselves cannot open enemies to finishers, all single dagger weapons can after performing a heavy attack.
Rear finishers use the same animations as Stealth finishers. Front finishers, for enemies who can be targeted with such, have a different animation.

MOAs, for example, cannot be attacked with a Front Finisher, only a Rear Finisher.

The Finisher damage calculation formula is the same as Stealth Finisher.
Some weapons have different damage multipliers for their Front-Finishers compared their Back-Finishers, with back finishers using weapon multipliers from the Stealth Attack section above. Multipliers for Back and Front Finishers are as follows: [

Expand

]
Methods to Open Enemies to Front/Back Finishers:
[
]