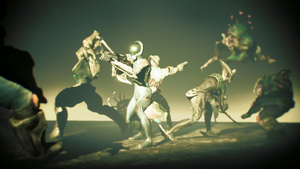 Exterminate Missions requires players to kill a limited number of enemies in the area, and then make it to extraction. A counter will be displayed below the minimap showing the number of enemies remaining. Once all enemies are killed you and any party members may extract at any time, or continue to kill fleeing enemies.
Exterminate Missions
Resource Caches and Rewards
The Exterminate missions at Plato, Lua and Dakata, Kuva Fortress feature Resource Caches similar to those found in many Sabotage missions. These caches provide rewards at the end of the mission based on the number of caches found.
Archwing Exterminate missions give an end of mission reward upon completion.

View Exterminate Cache Rewards List
▾
▾
During the Prime Vault unseal the Exterminate Void nodes have a separate end of mission reward drop table.
Notes
If the player tries to rush through the map and ignore enemies along the way, the ignored enemies will start sprinting toward the extraction zone.
Hostile environmental objects such as Security Cameras, Arc Traps, and Wildlife are exempt from the counter.
Capture, Mobile Defense, or Sabotage missions may randomly have the Lotus interject and inform the player to ignore their original objective and "leave nothing alive", converting the mission into an Exterminate.

A Spy can also become an Exterminate if all three data vaults have had their alarms tripped and their data extracted, to prevent the enemy from "reporting back to their command."
An Interception becomes a short Exterminate after the main objective is completed, for the same reason as above.

Players are unable to join an in-progress mission once half of the required enemies have been killed.
Enemies spawned by other enemies, such as the Shield Ospreys deployed by Corpus Techs or Maggots spawned by Brood Mothers, will be added to the enemy counter. However, Latchers deployed by Seekers will not count. Drahks from Drahk Masters and Infested from Boiler spawn pods will also increase the enemy limit.
Enemies will continue to spawn even after the player(s) have killed the required enemies. This occurs even in Infested Exterminates where the player realistically should kill all enemies to prevent the spread of the Infestation, but is told to leave when the kill count is achieved. This even happens in Quest-specific exterminates like the one in Vor's Prize, where the Lotus tells the player to kill "all Grineer", even though she tells the player to leave when the kill count is achieved and enemies still exist.
Tips
Bugs
As of

Update 18.3

, enemies can sometimes not spawn making the mission impossible to complete.
Enemies may sometimes have a spawn delay, making the mission longer to complete than usual.
Media