ENERGY:




50




KEY


2 

Elemental Ward


Depending on Chroma's elemental alignment, an offensive area-of-effect is created. Chroma and his nearby allies are imbued with defensive energy.
Chroma emits an aura of elemental energy, by expending 50 energy to empower himself and nearby allies as long as they remain within 6 / 8 / 10 / 12 meters, providing both offensive and defensive buffs. Elemental Ward lasts for 10 / 15 / 20 / 25 seconds.
Elemental Ward exhibits different effects depending on Chroma's current elemental alignment, determined by Chroma's primary emission color or the selected element of  Spectral Scream.
---
Elemental Auras of any type from two or more Chromas do not stack, i.e. two  

Heat

auras do not increase damage nor health values, and if you had both a  

Heat

and  

Cold

aura, only one of them would be active on allies, the first aura stays until you move out of range or it expires.
Has a casting delay of 1 second. The animation interrupts movement and other actions.
Elemental Ward cannot be recast while active.
Subsuming Chroma to the Helminth will offer Elemental Ward and its augments to be used by other Warframes. The Ward's effects are determined by the Warframe's primary emission color.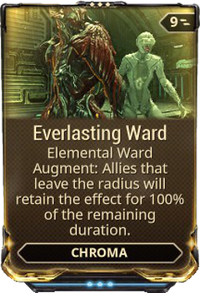 Main article: Everlasting Ward
Everlasting Ward is a Warframe Augment Mod for

 Chroma that allows allies to retain

 Elemental Ward's effects upon moving out of its range, lasting for a percentage of Elemental Ward's remaining duration.
| Rank | Duration | Cost |
| --- | --- | --- |
| 0 | 50% | 6 |
| 1 | 65% | 7 |
| 2 | 80% | 8 |
| 3 | 100% | 9 |
Input table not loaded. Javascript Not loaded
Result table not loaded. Javascript Not loaded
Allies who enter, leave, then re-enter the radius of  

Heat

-oriented Ward will not regain the buff on the same cast of Elemental Ward. This results in an empty space where the bonus health should have been, even if they took no damage at all.

This causes  Medi-Ray and other healing abilities to attempt to heal the player, but if the player gets out of Elemental Ward's range, their health will return to normal again, wasting the health restored in the process.

The in-game UI shows the armor bonus from the  

Cold

aura as a flat bonus rather than a percentage.
Community content is available under
CC-BY-SA
unless otherwise noted.