Devstream #46 started on February 6th, 2015, @ 2 PM EST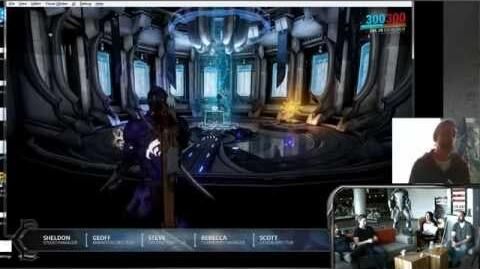 Sheldon!
On The Couch From LEFT to Right:
Studio Manager | Brady Bunch! Sheldon!
Animation Director | Mystery height Geoff!
Creative Director | Pushing people around Steve!
Statue | Facing the Camera Excalibur!
Horsey | Shy Butterscotch!
Community Manager | "Internet month is like 30 seconds" Rebecca!
Design Director | Third Eye Googly Scott!
And of course the awesome Livestream crew (Tom, Dean, Warren, Conner, Danielle, Arthur, Jake), Megan, and everyone at DE!
General Announcements
[
]
TennoLive in 4 weeks at PAX East! Got some cool secrets to show you! Tickets no longer available, invitations will be sent to applicants in about a week
PS4 update will come on Tuesday, XB1 update planned for Tuesday but may come later! The Next Warframe
Scott: We're allowed to? "DRAGON THEME"
Energy color determines element of attacks!
"Will players with more color palettes have more abilities?" Hopefully not! Should work with just the standard colors, might be a few bugs
Questions
[
]
And news on FushPishers? Archwing Underwater?
[
]
Level design team is working on the new tileset now!
"Polish pass" for Archwing coming as well. Changes to Archwing based on dual-medium-movement (space/water)
What specifics of J3-Golem fight will encourage players to fight him frequently?
Usual plan is to finish the work, then implement rewards
Sheldon: "Yes there is, not revealing it yet!"
Squealed in happiness when Hek was moved! Will Infested Alad get the same treatment?
It's been met with great reactions. Perhaps!
We hear player complaints about grind; it grinds on us as well!
Warframes in a quest really reduces RNG, might be the way forward for most frames.
Originally, Warframes came from bosses, but they were RNG, and now that boss ambition has grown immensely, we had to and still are looking for ways to make acquisition better
Early release pattern of bosses tied to planets. Then WFs outpaced bosses. Time to revisit all the systems in the game!
RAIDS
[
]
MATCHMAKING: 1 host, 7 clients currently. Still working on MM
Potentially open lobbies, but also need teamwork (no Leeroy)
There will be puzzles AND bosses! Bosses with puzzles!
(Fluff) Forma looks like puzzle pieces? 8 player jigsaw puzzles?
More demand for thinking, coordination
We will not shy away from making these missions hard!
Very interesting reward structure! New rewards you've never seen before! Some folks might be familiar with them...
Focus system took another black eye; one more Focus idea put into a different concept!
This is the year of QUALITY, not QUANTITY. More interesting stuff to do, rather than more stuff to power up.
"Focus has become our Half-Life 3" -Reb
Where did Baro go?
[
]
UI Bugs, we're fixing them now, had to take him out to fix them!
Player concept enemies? Role in new content?
MANIC render and animations! Standing! Kicking! Lunging! Flailing! FACE-SLAPPING!
Sub-boss type enemy; stealth unit. Can drop on you, super fast
How will new enemies scale with high-level gear? If it's in a Raid, you will cry!
If the destroyed relay stations are rebuilt, will anything be new?
There's more stuff going into Relays! New areas! Different tiers of relays
For U16, new relay characters: NEW CEPHALON. Designates specific enemies for "collection;" like scanning and trapping.
New gear, codex (Dematerializer). New playstyles and tools to capture these units! "Building a Virtual reality Noah's Ark"
(Fluff) Capture target Chooluthu
Trapping leaderboards!
When the whole community finishes the mission, everyone gets new lore
New players will be able to do old and new missions
All Mastery Tests you've done (plus your upcoming one) in game can now be practiced in the Library!
Unique rewards: "a syndicate without enemies." Neutral entity
And the CONCLAVE MASTER (PvP Progression)
Neutral syndicate
We're working on PvP because we want to make it better. Progression is important, unique PvP
In order to balance multiplayer, only starter frames and MK1 weapons (plus all Braton variants) have been balanced and available to play.
Separate PvP loadouts will be available. Only mods balanced for PvP will be available for use
More frames/weapons/mods unlocked as balance implemented and updates roll out!
Dark Sectors in their current state will be removed in the future
Our small PvP team is working super hard on this! Give them props!
Parkour 2.0 changes? Climbing, takedown "like in other games?"
Not when we first launch it. Polish passes for animation smoothness and increased mobility options
We might need to adjust some tilesets
NEW PVP GAMEPLAY! 4v4 CTF
[
]
Factions: SUN (Team Rebecca) vs. MOON (Team Sheldon) Primetime vs. Devstream!
Capture the Flag: First to 5 captures wins
Clan logos will be seen in bases!
Icons above enemy player heads
Energy is a resource to be controlled on the map
HIGHLY WIP! Nothing is finished!
(Fluff) Rebecca Beast Mode!
Flow of battle: fight, build energy, use abilities! But you might not live long enough to use it!
Weapon/Frame XP can be earned in PVP!
First Bug: Oh no unauthorized frames!
NOT A FORCED MODE. PVP will be optional, no significant content locked behind
Warframe's mobility really adds a new dynamic
Proper death animations added
Abilities might work differently in PvP due to balancing, but should match general use
All weapon/frame/mod balances for PvP will be for PvP only; PvE effectiveness won't be affected
There will be specific PvP mods for PvP only
There will be a kill-feed of who killed who
No teleporting on map-fall; counts as death
(Fluff) Sheldon is cheating! Has Infinite Energy and Invincibility on! "Only K/D that matters is real life" -Rebecca
Hoping for U16 launch! No idea if it'll be one node, or fully deployed across system
PvP Loadout: Where the Archwing button used to be, there is no ARCHWING, COOP, PVP.
Mods appropriate for PvP will have a diamond on them. The UI will filter them for you when in PVP Loadout
You will have loadout setups you can switch between during PvP matches
If a particular loadout becomes OP we will balance it
U16 release date?
[
]
Soon TM! "Just around the corner!"
Prime mods? Cores farming? Drop adjustments?
Adjustments are coming, no more "just Survival"
Every Update has a unique feature that changes the game. U13 was Dark Sectors, U14 Ships, U15 Archwing. U16 is?
RAIDS and PVP. Two new game modes that will expand on the player experience
And the new Warframe too! "Feels very different"
"Remember when the Updates were about the frames, now it's just a feature of them!"
Flow particles? Tech improvements?
"Reverb!" -Steve
All these graphical updates! PBR! Lipsynch! Flow Particles!
Console framerate issues being worked on
Greatsword stance?
Darvo's market?
Syndicate standing halving: Daily Cap determined by Mastery Rank. Medallions & Syndicate missions no longer count towards this, however, so you can farm those.
The ratio of earning has been brought down for balance; don't want players to just press 4 and get Mastery
Early MR folks can earn a bit more now
We are talking about it, so changes may still come
Networking?
Glen's still working on Strict NAT issues!
We're going to get around Strict NAT, "destroy University firewalls!"
Will Raids have a Mastery Requirement?
Juicing or unjuicing of weapons?
No comment!
New animations in the works
Cover system?
No; we will improve movement and parkour
We tried cover way back when, it didn't work at all
Trivia
[
]
Credits
[
]
Media
[
]