The developers at Digital Extremes have done another installment of their Livestream Developer Q&A.
The stream started on February 7, @ 2pm EST.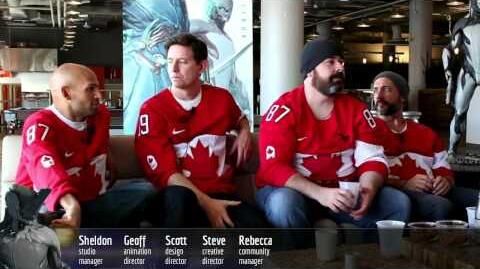 Announcements
Credit goes to BuildMyPaperHeart on Reddit.
Housekeeping
New Wiki redesign (working with the this Wiki!) "Phresh"
PS4 Update 12: Coming after three critical patches. Patches will begin deployment next week.
WARFRAME has passed Sony Certification in Japan, and will launch with the PS4 in that region!
Update 12 Happened, lots of cool stuff
Redistributed Void Drop Tables
They have been deployed!
Defense & Survival: 15 Minute rewards are actually 20 minute rewards; mistype from 4am deployment of U12. Live since yesterday
Snowglobe Nerf
Snow Globe

 Snow Globe was nerfed heavily, making players worried that other useful end-game frames (Nova, Vauban) will also be nerfed. Irrational fear? Follow up: a lot of powers have power/damage changes depending on armor/enemy stats, but others (Loki's Radial Disarm) are not. Balance issues?
Scott: I noticed a lot of times I played Frost, I got bored; I get brought on missions to hit 3. Is this the perfect solution? Maybe not, but we wanted him to be more dynamic, and we're taking your suggestions
Frost Power Utility: freezing and damage
HUD Customization
We are looking into more customization options for the HUD! Keep up the suggestions!
They've heard your feedback, they're working on it!
Give your support to Dorian and Pablo, the HUD gurus!
Melee 2.0
Aiming for end of February release
Programmers, Sound Design, other elements are overloaded
The new Grineer Hammer was given polearm animations as a placeholder, will be replaced
Endgame
VIDEOS of "some crazy stuff," most of it leaked via Design Council. Three potential projects!
NOTE: Another summary was posted on the Design Council, check out the leak here!
REMINDER: These are just ideas, nothing finalized yet!
Focus
find a lens/paths/skill trees, basically, that affect Warframe/Weapon performance or skills.
"Find a Warrior Lens, excess XP goes to Warrior Points, then based on Mastery you can unlock points to use in the skill trees.
Will not be like mods" "Focus state: BEAST MODE?"
"Per player account, not just gear-focused! Upgrading YOU as a Tenno, not just your gear"
The economics of it aren't "awesome" right now, will be improved upon
Proxy War
Trying to make good on Battle Pay: side allegiances will be tracked with factions
Clans gain alliances with the factions
SECRET ORDERS: "Red Veil; a guild of assassins" - "The Oracles of Saturn; collecting information about the Warframe Universe"
Secret orders will give standing points and rise in the ranks of those organizations.
Interesting cosmetic items, exclusive mods as rewards for secret order missions
More of a sandbox game for newer players, rather than restrictive "progression" style
A "lore buffet" - "vor's prize"
If you are enemy #1 with the Corpus, or revered with the Red Veil, players can have a personality for their Tenno
Badlands
Locations in Starchart that are ADDED to the game, unaccessible until a large clan (or alliance of small clans) can cooperate to build a SOLAR RAIL
Once a clan builds a Solar Rail in that location, everyone can take the Solar Rail to this new location! However, there is a tax!
Clan/Alliance can control the mission tax/toll. Toll road
Badlands will have better mod drop rates, higher resource concentrations, perhaps rarer enemy types
Another Clan/Alliance can oppose the current Solar Rail by building their own and "Challenging" it. Territory conflict
Battle Pay-like system where users will fight for the side they support! Similar to ===Invasions===
Doesn't seem to be PVP, no indications of Player vs Player. More likely PVE with clan impact
Special bonuses on clan help/membership; reduced or removed toll
The Badlands will have NO EXCLUSIVE ITEMS
Corpus On Starchart
Harvester is a primary cause: "Attack on Tenno"
We can't tell exactly what we're doing... but play Darvo's mission and you might find out! "Project Tethra?"
"We are very aware of it, we have heard the Grineer are maybe doing something..." -Scott
Concept Art For Inspiration?
Yup! Zephyr concept was very inspiring for us!
Dive Bomb is getting looked at; we know there's an issue. Damage may be going through the floor of the mission
Utility and process of node-to-node progression?
"I can't believe you're showing this today" -Sheldon
VIDEO of the VESPER RELAY: Screenshot gallery
Stations in each planet (in this case, Venus). Different stations for each planet!
"The beginning of the Death of the StarChart" -Steve. We're taking the UI and putting it into the game. "Stations" to connect missions. A new large-scale lobby, like Phantasy Star hubs/Citadel in Mass Effect where all players can hang out and chat before going into missions
No more kneeling on weird circle things, but in a real place to dock your ship and travel between areas!
Emotes will be implemented here primarily
In-game Market as well! The game currently has no sense of "presence." Want to make the game more immersive
Simple UIs for quick travel and basic functions, but a place to hang out and have a character
Wall-mounted Alert system
Trading stations in-station as well!
Brakk, Event Exclusive Or?
The "Disney Vault" of Warframe, many items will return in the future
Founders' Exclusives will remain exclusive, and will not ever be available again: Excal, Lato, Skana Primes
Brakk codename: "Little Mermaid"
PS4 Performance
You can expect at least double framerate or more in the Void (we'll also fix this for PC as well)
Thoughts For Warframe Abilities/Mods?
No release date yet, but 2014 has brought code support for abilities that work for any Warframe
Players can start to customize their Warframes further
Idle packs to be used on all frames: Rhino in the Ember pose, "let's embrace it" -Geoff. "Sexy Rhino" -Steve
Embrace the customization
Lore
Ember Codex entry
Darvo's new mission
Hyenas are going to be in the Codex soon, sorry about that!
Serration Retirement!?
No, we're not retiring Serration, but we do want to increase damage diversity
Circumstantial Damage buffs? Ex. Damage+ on headshots, Damage+ on unaware enemies, etc.
Next Primed Warframe
90% Chance with it being Rhino or Loki!
Will launch with Melee 2.0, end of February
Warframe Merch Store Coming Soon!
OH MY GOD!
"Squeaky clean and oh so sexy"
Gangster Lotus
New Art and Tilesets
VIDEO of the Shipyard set, very dark
Tenno Katana/Wakazashi (Lotus symbol at the bottom of the guard)
Lever-Action rifle/dual pistol concepts! Cool Terminator style reloads! May come next week
Corpus Freeze Ray Gun
Grineer Acid Rifle concept
Primary Tenno Crossbow
Grineer Death Squad drops new weapons?
Melee Contest stuff is coming as well!
More Mini-event like Oxium thing?
Yup. Yep. Yes.
Tied into the Proxy War system or Planetary Stations
The Darvo Alert had some cool concepts as well
Darvo Alert, replayability?
They agree with us, we want to find a way to put them back in!
Codex entries for replay options?
We will figure it out!
Stealth!
Banshee tweaks, "Silence" and Stealth
Once Stealth features are implemented, Silence will become OP, so we're working on finding a balance -Scott
Parkour 2.0
Councilor Vay Hek
Still getting rigged
Don't have a release date, complexity is much higher than anticipated
More complex boss fights coming in the future
DERF?
Media