Deck 12 is a ruined debt colony on the Orb Vallis that once housed the current Solaris people of Fortuna. It was destroyed by the Exploiter Orb after a failed rebellion by Solaris United to liberate the Solaris from Nef Anyo's control.
Lore
[
]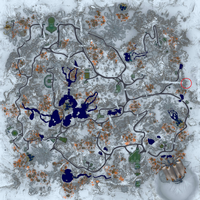 Solaris United planned to destroy the Exploiter Orb in an operation using Diluted Thermia as a weapon, condensed in a device built by Rude Zuud and her sisters. However, the operation was immediately put to a halt when the Exploiter Orb herself raided and destroyed Deck 12. The massive casualties instilled fear into the rebellion, effectively crushing Solaris United until the Tenno revived it.
During Operation: Buried Debts, the Tenno find hidden data-hashes scattered across the Orb Vallis, which Rude Zuud reluctantly analyzes and discovers a passphrase. After finding all the hashes, Eudico realizes what the passphrase opens, a place she'd never thought she'd return to, and directs the Tenno to Harindi Crater. The encrypted passphrase reads "THE DEAD HAVE DEBTS" in the Corpus Language, and here they find the ruins of Deck 12.
Upon finding and activating the thermia condenser, the Tenno are confronted by the Exploiter Orb, returning to Deck 12 as if on cue. The Tenno proceed to finish what Solaris United started and use the condensed thermia to destroy the Exploiter Orb for good.