Release Date: September 13th, 2013
Nekros is a Warframe with powers likened to that of necromancers and dark arts practitioners, his abilities exploiting the vulnerabilities of the living and the corpses of the dead. Nekros was disinterred in Update 10.0.
Acquisition
Nekros' component
blueprints
are acquired from
Lephantis
(Assassination,
Orokin Derelict
).
Drop
Chance
Expected
Nearly Guaranteed
Chassis Blueprint
33.33%
5 – 6
20 ± 6
Neuroptics Blueprint
33.33%
Systems Blueprint
33.33%
Expected refers to total number of runs a player can expect to receive at least one of each drop associated with the respective values.
Nearly Guaranteed refers to the total number of runs a player needs to obtain a 99%, 99.9%, and 99.99% probability to receive at least one of each drop associated with the respective values.
For more detailed definitions and information on how these number were obtained visit here.
Warframe Guides
Edit
"I am the Lotus. I will guide you, but we must hurry."

Guides are created by users like you. They aren't as strictly regulated as most pages, so keep an eye out for dated or subjective information.

Have your own build and playstyle? You can contribute too! Instructions are within.
See Category:Nekros Guides to read user-made guides on how to play this Warframe.
His name comes from the Greek word "νεκρός", meaning "dead". 
Nekros is Swedish for Necrosis which is a medical term for the death of most or all of the cells in an organ or tissue due to disease, injury, or failure of the blood supply.
Nekros is one of the two Warframes that does not have an innate aura polarity, the other being Excalibur.
Nekros was released on Friday the 13th.
Nekros is one of the most expensive Warframes to build: not only does his blueprint cost ‍100,000, he is one of five frames that require three Orokin Cells instead of just one, the others being Mag Prime, Mirage, Limbo and Rhino Prime.
Nekros is the only Warframe with a base shield stat of 90 in cooperative missions.

Equipping a maxed out  Redirection mod on a rank 30 Nekros will boost his shields to 666.

Nekros is the first Warframe whose alternate helmets were purely cosmetic, as opposed to earlier "Arcane" alternate helmets.
Nekros is one of the few Warframes whose unique animations do not hold a bow with both hands – the other Warframes being Hydroid, Limbo, Mesa and Harrow. He holds the bow with its arrow only in his left hand. With his Agile animation, he will grab the arrow and twirl it around.
Nekros' Noble animation set has an almost identical idle animation for all weapons excluding throwing weapons – he simply looks left and right calmly. With throwing weapons, he will twirl and spin one on his right hand. This animation is also used by the Agile set.
Nekros' unarmed idle animation is identical on both sets – he will perform Shadows Of The Dead. This also occurs while he is holding a one-handed secondary weapon.
Nekros' legs, hands, and feet are far more slender than other Warframes, a trait shared with  Oberon.

Also, both Nekros and Oberon seem to have wider torsos than other Warframes, at least in a limbs to torso ratio.

Nekros appears to have six fingers, however the last one only has one bone.
When holstering dual daggers like the Fang and Ether Daggers, Nekros stores them in a cross arrangement, unlike the normal parallel stack that other Warframes do.
Release Date: August 23rd, 2016
Nekros Prime is the Primed variant of

Nekros, possessing higher shields, as well as an additional

polarity. Nekros Prime was released alongside
Tigris Prime and
Galatine Prime.
Manufacturing Requirements

25,000

3
Time: 72 hrs
Rush: 50
Market Price: N/A
Blueprint Price: N/A
Neuroptics

15,000

15,000

3

12,000

5
Time: 12 hrs
Rush: 25
Chassis

15,000

3

18,000

6,000

2
Time: 12 hrs
Rush: 25
Systems

15,000

3

3

15,000

500
Time: 12 hrs
Rush: 25
Nekros Prime is the third prime Warframe introduced via a cinematic lore video, continuing a trend that started with  Saryn Prime.
Nekros Prime was revealed at TennoCon 2016.
Vaultings
Edit
On June 5th, 2018, it was announced that Nekros Prime would enter the Prime Vault and be retired from the reward tables on June 19th, 2018. Any preexisting components or fully-built frames will remain as is.
Soul Siphon
Edit
A master of death, Nekros regenerates 5 health per second for 6 seconds after Nekros kills an enemy.

Health regeneration will stop when Nekros receives health damage.
Abilities 
Edit
Nekros lunges with telekinetic force, dealing 40

Impact

damage to a single target within 14 meters.

Nekros can miss with ability, causing him to lose energy.
Initial target is knocked down.

The target's soul is violently ejected from its body, becoming a high-velocity projectile. Enemies that make contact with the projectile are dealt 40

Impact

damage. When the projectile makes contact with a hard surface, 40

Impact

damage is inflicted in an area of effect.
Despite having a noticeable visual and audio effect, the skill is perfectly silent.
Can be used while performing many actions without interrupting them, including reloading, charging, and shooting.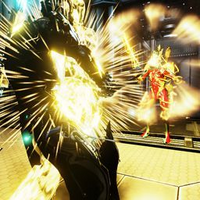 Main article: Discharge Strike
Discharge Strike is a Warframe Augment Mod for

Nekros's

Soul Punch in Conclave that depletes energy from an opponent.
| Rank | Energy depleted | Cost |
| --- | --- | --- |
| 0 | 6 | 6 |
| 1 | 13 | 7 |
| 2 | 19 | 8 |
| 3 | 25 | 9 |
Nekros releases a psychic blast that causes enemies within 16 meters to reduce their damage output for 20 seconds.
Can be recast while active and can refresh the duration on already affected units in the cast range.



ENERGY




10




KEY


3 

Desecrate


Forces fallen enemies around you to drop a Health Orb and are also visible to Nekros on respawn.


Energy per Corpse: 20

Strength

:

N/A

Duration

:

12 s (desecrated body timer)

Range

:

20 m
Nekros emits an aura of dark power that affects every corpse within a radius of 20 meters, consuming the corpses and granting a Health Orb. After a 2-second delay on the first corpse within range, corpses are consumed one at a time in random order, with subsequent corpses taking 1 second of delay between consumptions.

Desecrated players are highlighted and revealed through walls (upon respawn) for the duration of the ability.

Desecrate will consume 20 Energy for every corpse consumed. This ability will remain active for as long as Nekros has energy, or the ability is manually deactivated by pressing the ability key again.

Nekros can still regenerate energy & pick up energy orbs when Desecrate is active.
While the ability is active, Nekros can still move around freely.
If toggled on, the ability icon will be grayed out and Nekros will shimmer faintly in his energy color.

Successfully desecrated corpses will glow with the chosen energy color and turn into smoke before fading away.
Initial activation of the ability has a cast time of 1.8 seconds.
Nekros does not raise shadows, instead is a self-buff that makes him & his allies respawn instantly for the duration of the ability.

This ability will persist even after Nekros' death or when the user changes loadouts that has a different Warframe.
Community content is available under
CC-BY-SA
unless otherwise noted.