Release Date: November 27th, 2014
The gunslinger Mesa wields both style and power to overcome her foes in a rapid shower of ballistic ordnance. Mesa drew her guns in Update 15.5.
Manufacturing Requirements

25,000

1

1

1

1
Time: 72 hrs
Rush: 50
Market Price: 325
Blueprint Price: 30,000
Neuroptics

15,000

1,500

2

350

500
Time: 12 hrs
Rush: 25
Chassis

15,000

1

50

300

1,000
Time: 12 hrs
Rush: 25
Systems

15,000

1

1,600

300

500
Time: 12 hrs
Rush: 25
Acquisition
Mesa's component
blueprints
are acquired from
Mutalist Alad V
(Mutalist Alad V Assassination,
Eris
).
Drop
Chance
Expected
Nearly Guaranteed
Chassis Blueprint
38.72%
6 – 7
27 ± 9
Neuroptics Blueprint
38.72%
Systems Blueprint
22.56%
Expected refers to total number of attempts a player can expect to need in order to receive at least one of each drop associated with the respective values.
Nearly Guaranteed refers to the total number of attempts a player needs to obtain a 99%, 99.9%, and 99.99% probability to receive at least one of each drop associated with the respective values.
For more detailed definitions and information on how these number were obtained, visit here.
After Oberon, Mesa is the second Warframe whose main blueprint sells for ‍30,000.
Mesa was first revealed in Devstream 41, when Art Director Mike "Mynki" Brennan displayed her concept art.

According to Brennan her default helmet is actually blindfolded, as she enjoys a challenge during fights.

With her gunslinger theme, Mesa's name is most likely a reference to the land formation of the same name which is common in the Western and Southwestern United States.

The word mesa is the Spanish and Portuguese word for "table"; the mesa land formation is an elevated area of land with a flat top.

Mesa is third Warframe to come with built-in weapons, following Ash and Valkyr, but the only one of the three whose weapons have physical form.

The firing hammers for Mesa's Regulator pistols are mounted on her thumbs.
Mesa's Regulator pistols are colored through the color selection of the Attachments tab tint color 4, rather than the main Warframe color selection.

Some related files refer to Mesa as "Cowgirl", which was most likely her name used during development.
The name of Mesa's 4th ability, Peacemaker, is probably derived from the Colt Single Action Army revolver, which was also called the Colt Peacemaker. Keeping with Mesa's Western theme, the revolver saw considerable use in the American Old West.

Additionally, the name of Mesa's Regulator Pistols might be a reference to the Regulators, a posse from the American Old West said to have been co-founded by Billy The Kid.
Release Date: December 18th, 2018
Mesa Prime is the Primed variant of

Mesa, possessing increased armor, health, and additional

and

polarities. Mesa Prime was released alongside

Akjagara Prime and

Redeemer Prime (both of which are not in Conclave).
"I am the Lotus. I will guide you, but we must hurry."

Guides are created by users like you. They aren't as strictly regulated as most pages, so keep an eye out for dated or subjective information.

Have your own build and playstyle? You can contribute too! Instructions are within.
See Category:Mesa Prime Guides to read user-made guides on how to play this Warframe.
Mesa Prime, compared to Mesa:

Lower Mobility (0.9 vs. 1)
Higher Armor (60 vs. 55)

Mesa Prime's Ballistic Battery features multicolored lines instead of scattered energy particles.
Mesa Prime's Prime Access was the first to feature a Primed alternative helmet.
Mesa Prime's helmet bears a resemblance to that of Limbo Prime's.
Mesa Prime's Regulators also have a unique model as compared to her non-Prime variant.
Mesa gains a +50% reload speed bonus for one handed sidearms.
Mesa converts 75% of the total damage inflicted by her primary and secondary weapons into raw energy. A maximum of 70 damage is stored for every instance of damage and is stored at full capacity. When Ballistic Battery is deactivated by pressing the ability key again (default

1

 ), the stored damage is unleashed on the next gunshot fired.

While active, a charge counter becomes visible on the ability icon that tracks stored damage from 0% to 100%.

Peacemaker's Regulators pistols can contribute to the charge counter, and Ballistic Battery can be deactivated while Peacemaker is active. Stored damage can be applied to a single Regulator shot.
Mesa's body will glow in her chosen energy color with intensity and coverage scaling with damage stored.
Has an initial cast of 0.5 seconds.
Mesa releases an energy lasso that swirls around her, causing her to depletes ammo in an opponent's magazine every 5 seconds. The lasso will remain active for 20 seconds.

Doesn't switch between allies nor increase damage of weapons while active.

Cannot be recast while active.
Mesa envelops herself in an energy shield that reduces incoming damage from bullets and projectiles by 50%. The energy shield lasts 8 seconds.
Cannot be recast while active.



ENERGY:




25




KEY


4 

Peacemaker


With intense focus, Mesa draws her Regulator pistols, shooting down her foes in rapid succession.


Energy Drain: 5 s-1

Strength

:

1x (damage multiplier)

Duration

:

N/A

Range

:10° (minimum

FoV

)

Misc

:34 (damage)
2% (damage bonus per burst)
50 m (maximum shooting distance)
Mesa must have max energy in order to use this ability
Mesa stands her ground, holsters her current weapon, and draws her Regulators pistols as secondary Exalted Weapon. While Peacemaker is active, a focus ring appears in the form of a blurred reticle which can be aimed at enemies. Her pistols can be fired without a target inside the focus ring up to 50 meters away. Each gunshot will reduce the size of the focus ring until its field of vision is reduced to 10°.

The focus ring's field of vision resets to its initial value if Peacemaker expires or is deactivated.

Mesa's Regulator pistols inflict 34 damage per shot.
The pistols are fired in bursts of two gunshots.
The rate of fire will ramp up for each gunshot. The rate of fire will reset if the fire button is released or if no gunshots are fired during a brief period of inactivity.

The Regulators are automatic; players need only to hold down the fire button to continue firing.

Peacemaker drains 5 energy per second and will remain active so long as Mesa has energy.

Peacemaker will end if Mesa runs out of energy or if deactivated by pressing the ability key again.

While Peacemaker is active, Ballistic Battery can be deactivated but not activated. Stored damage can be applied to a single Regulator shot.
Peacemaker's shots can damage enemies across the Rift Plane.
Cannot be cast while airborne.
Main article: Conclave:Regulators
The Regulators are

Mesa's signature Exalted Weapon, which are used when her

Peacemaker ability is activated. Unlike other ranged weapons, the rapid-firing Regulators will automatically target and shoot at enemies within a large aiming circle directed by the player, removing the need for precise aim.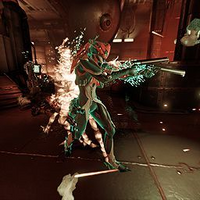 Main article: Mesa's Waltz
Mesa's Waltz is a Warframe Augment/Exilus Mod usable in both PvE and Conclave that allows

Mesa to move at a reduced speed while channeling

Peacemaker.
| Rank | Movement Speed | Cost |
| --- | --- | --- |
| 0 | 35% | 6 |
| 1 | 40% | 7 |
| 2 | 45% | 8 |
| 3 | 50% | 9 |
Community content is available under
CC-BY-SA
unless otherwise noted.