Release Date: October 25th, 2012
Ash is a fast, maneuverable Warframe that possesses a high degree of survivability in the field. Fleet movement complements deadly tools of assassination, making Ash a perfect balance between killing potency and stealth.
Acquisition
Ash's component
blueprints
are acquired from
Manics
. Manics have a 33% chance to drop a component blueprint.
Drop
Chance
Expected
Nearly Guaranteed
Chassis Blueprint
38.72%
18 – 19 kills
88 ± 29 kills
Neuroptics Blueprint
38.72%
Systems Blueprint
22.56%
Expected refers to total number of runs a player can expect to receive at least one of each drop associated with the respective values.
Nearly Guaranteed refers to the total number of runs a player needs to obtain a 99%, 99.9%, and 99.99% probability to receive at least one of each drop associated with the respective values.
For more detailed definitions and information on how these number were obtained visit here.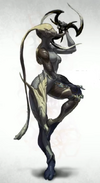 Ash was originally named Smoke, and before that, simply Ninja. He is still referred to as Ninja internally in the game files.
As seen from concept art, Ash was initially slated to be a female Warframe.
Ash was the first Warframe that had innate physical weapons associated with his frame, in this case his hidden blades he uses in his Blade Storm ability. The second frame with this innate physical weapon was Mesa and her Regulator pistols she uses in her Peacemaker ability.
Ash has smoke constantly venting from his left arm.
"Market forces dictate that you need to evolve or die."

The Void Relics for this item have been removed from the drop tables at this time and are no longer available.
Release Date: July 7, 2015
Ash Prime is the Primed variant of
Ash, possessing a higher shield capacity, armor and sprint speed, as well as an additional

polarity. Ash Prime was released alongside

Vectis Prime and Carrier Prime (the latter of which is not available in Conclave).
Manufacturing Requirements

25,000

1
Time: 72 hrs
Rush: 50
Market Price: N/A
Blueprint Price: N/A
Neuroptics

15,000

150

2

1000

750
Time: 12 hrs
Rush: 25
Chassis

15,000

3

1000

400


Time: 12 hrs
Rush: 25
Systems

15,000

3

1

1000

500
Time: 12 hrs
Rush: 25
Ash Prime's helmet could be loosely based on the traditional Kabuto Samurai helmet and shows certain aspects of other Samurai Helmets like the oversized chin guard.
The ponytail on the Ash Prime helmet is somewhat reminiscent of the ponytail in Ash's original concept art.

This "ponytail" was originally intended to be included in his final design, however, cloth physics at the time did not permit it.

In the Codex, Ash Prime's arm blades are mounted underneath the wrist; in-game, however, the blades are positioned above his wrists much like the normal Ash.
Ash Prime's ability features are energy ribbons that emerge from Ash Prime when he appears out of Smoke Screen and when he reaches his destination from Teleport.
Ash Prime has Orokin writing on his torso that says "Tenno Model 24N - Serial 147H".
Ash Prime's Arsenal image shows him holding the  Vectis Prime as a lefty. Although this may be unintentional, it could hint to Ash Prime being ambidextrous, hence why he is equally efficient with both arm blades.
Players who watched the TennoLive 2018 stream on July 7 2018 on Warframe's official Twitch channel for 30 minutes or attended the event received a free Ash Prime.[1]

Due to server issues that prevented players from watching the livestream, DE gave away a free Ash Prime to anybody with a Twitched linked account who logged into Warframe between July 3 and July 10 2018.[2]
Vaultings
Edit
On May 24th, 2017, it was announced that Ash Prime would enter the Prime Vault and be retired from the reward tables on May 30th, 2017. Any preexisting components or fully-built frames will remain as is.
Hemorrhage
Edit
Guaranteed

Slash bleed effect when hitting enemies with a Nikana type weapon that lasts 3 seconds.
Abilities 
Edit



ENERGY




0




KEY


4 

Blade Storm


Project fierce shadow clones of Ash upon groups of distant enemies. Join the fray using Teleport.

Strength

:150 (damage)


Duration

:

N/A

Range

:

8 m

Misc

:3 (max. marks per enemy)
1 (number of Shadow Clones)
Update: The Index Preview
Shuriken is now a single projectile.
Shuriken will now only seek targets the player aims at.
Ash now has increased mobility while invisible.
Increased animation speed and range of Teleport.
Decreased duration of Smokescreen.
Increase the range and damage of Bladestorm.
Bladestorm no longer require a target to activate.
Bladestorm range has been increased from 8m to 10m.
Increased the duration of Smoke Screen.
Increased the range of Teleport.
Casting Teleport will now cause players to drop the Cephalon.
Increased animation speed of Teleport.
Shurikens now do Puncture damage.
Bladestorm damage reduced.
Fixed Bladestorm becoming caught in an infinite loop, causing invulnerability and idle clones.
Ash and Ash Prime are now available for use in Conclave.
Cite error: <ref> tags exist, but no <references/> tag was found
Community content is available under
CC-BY-SA
unless otherwise noted.