ENERGY




50




KEY


2 

Antimatter Drop


Launches a contained particle of antimatter that will detonate upon collision with increased deadliness when targeted by weapons.

Strength

:140 (base damage)
10 (contact damage)

Duration

:

N/A

Range

:

N/A

Misc

:8x (absorb multiplier)
6 m (explosion range)
Nova creates a volatile orb of antimatter which is steered with the aiming reticle. This particle absorbs all damage (friendly and hostile) when shot at, and once the particle makes contact with a solid object it will detonate and inflict 140 base damage + 800% of all absorbed damage as

Radiation

damage with an explosion radius of 6 meters. When the particle comes into contact with an enemy, 10

Radiation

damage is inflicted prior to detonation.

The particle does not absorb damage from other Antimatter Drop explosions.

The particle is guided via the HUD's targeting reticle, steering itself towards any object the reticle is placed on including environmental obstacles and enemies.
Looking directly at the particle will slow it down significantly.
Multiple particles can be active simultaneously.
The particle seems to have unlimited duration until it comes into contact with a solid object. However, multiple instances of particles at the same time will cause randomly timed explosions until there is only one left.
One particle can store up to 1,000 absorbed damage.

After absorbing the maximum amount of damage the particle will speed up rather significantly.

The coloring of the particle changes towards the caster's energy color as it absorbs damage.
Antimatter Drop's visuals will appear gold when cast by Nova Prime.
This ability is a one-handed action; as such, it will not interrupt full actions such as reloading, charging, or shooting.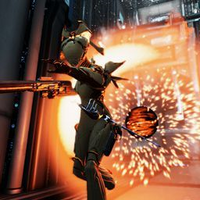 Main article: Antimatter Mine
Antimatter Mine is a Warframe Augment Mod for

Nova's

Antimatter Drop in Conclave which creates a fully charged stationary orb, that either explodes after 6 seconds or on enemy proximity.
| Rank | Duration | Cost |
| --- | --- | --- |
| 0 | 12 sec | 6 |
| 1 | 10 sec | 7 |
| 2 | 8 sec | 8 |
| 3 | 6 sec | 9 |
Community content is available under
CC-BY-SA
unless otherwise noted.