When equipped, a device will be placed on your Warframe's right shoulder, displaying the emblem of your Clan.
The image is a Lotus symbol by default. Once your clan's warlord has uploaded an image for the emblem, the default image will be changed to the custom image.
It can only be acquired in the Market for

‍30.
Clan Emblem Image
Upload option is only available for Warlords.
Go to your Account Management tab to upload your Clan's image.
Image must be a 128x128 pixels .PNG file.
Upload fee is ‍150.
Optional change fee is ‍150.
You may preview your Clan Emblem before uploading it. Note that the lighting and effects may not be accurate. (See Notes section below.)
Upon approval, the image will be implemented in the Clan Emblem in the nearest game hotfix or update.
Do not upload offensive and inappropriate images. If your image is rejected, you will receive an email from the developer regarding the rejection.
Your Platinum, however, will not be refunded.
Check Warframe's Terms of Use Agreement, Section 5: User Content for further information of acceptable submissions.
Equipping
To equip your newly bought Clan Emblem:
Go into the Arsenal page
Mouse over your Warframe
Click Appearance
Click Regalia
The Emblem will be under Clan Emblem.
You can also apply it on your Companions by mousing over your companion and clicking Appearance, Regalia, then click Clan Emblem.
Notes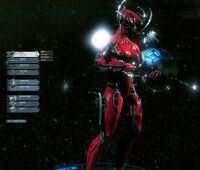 The Clan Emblem will be affected by:
Bloom
Motion blur
Dynamic lighting
Local Reflections
So the designer should carefully consider the color and contrast of the emblem. A whiter emblem will be shown as a particularly strong flashlight.
An example guide can be found here.
Media
Patch History
"Ah, have you come to make a donation to my newest 'enterprise'...?"

Patch history is needed. Click here for instructions.
See Also
Community content is available under
CC-BY-SA
unless otherwise noted.