The Centaur is an Arch-melee with a powerful six-hit combo complimented by its high attack speed and high critical chance to supplement its low damage.
Move
Button Combination
Melee

E

 

E

 

E

 E

3X

 

E

 

E

 
This weapon deals primarily
Slash damage.
Advantages:
Disadvantages:
Lowest base damage of all arch-melees.
The Centaur's blueprint can be purchased from the Market. Its parts can be purchased from various Syndicates. All parts, except for the blueprint, are tradeable.
Centaur can utilize  Tempered Blade to greatly increase its critical chance up to 62.5%, providing an additional 30% overall DPS.
Blocking with melee will grant knockdown protection against obstacles, allowing for smoother flight. Alternatively, performing a slide/dash attack will allow passage through obstacles without slowing down.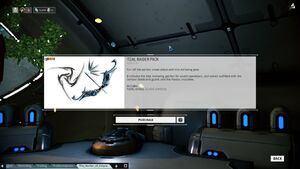 A Centaur is a mythological creature that is half-human, half-horse.

Incidentally, there is a species of Rhinoceros beetle called the Centaurus beetle. The Centaur's blade resembles a Rhinoceros beetle's characteristic horn while the body of the weapon resembles the beetle's head.

The Centaur (along with the Fluctus and the Itzal) was accidentally leaked in

Hotfix 15.6.1

, where a bundle called the "Itzal Raider Pack" visually replaced the Stealth Pack in the Market. The Stealth Bundle still functioned as normal however.
MR increased from 0 to 8
Damage increased from 280 to 290 376
Added Archwing tag to Centaur's weapon description.
Community content is available under
CC-BY-SA
unless otherwise noted.