Warframe is a game based in part on Digital Extreme's earlier successful project, Dark Sector (also spelled darkSector). These are the features in Warframe based on aspects of Dark Sector.
While these aspects are based on Dark Sector, they do not confirm a link in the lore and universes between the two games, only suggest one. Please keep that in mind when adding this category to pages and reading the linked pages information.
From the game:
From the trailer:
Liset: The Liset looks the same as the ship Dex flies in the Dark Sector trailer.
Jackal: An armored quadruped vehicle in Dark Sector. It looks like a Grineer version of the Jackal on Venus.
Dex: The name of the woman piloting the Liset in the trailer is Dex. This is possibly the inspiration names of the Dex Sybaris, Dex Furis and Dex Dakra weapons.
End-Mission Animation: In the trailer, Hayden Tenno is seen stepping into the Liset the exact same way Warframes do during the extraction cinematic. The room is exactly the same and also features the hanging Corpus-like suits in the background.
Burston: Grineer enemies used the Burston in the 2004 trailer, but as an automatic rifle instead of a burst rifle. Grineer Elite Lancers used this weapon as a placeholder until replaced by the Hind.
Solar rails:  Hayden mentions Solar Rails in the beginning of the trailer.
Lotus Quote:  Some things Hayden says are also said by the Lotus (e.g. "There are Grineer marines all over." and "For generations we slept..." as opposed to the Lotus saying "For generations, you slept...").
Aklato: Hayden uses the Aklato when he shoots the Grineer soldiers.
Sounds: Grineer marines used to make the same voice lines as the lines used in Dark Sector. (before they were changed to speak Grineer).
Corpus-like Suits: Can be seen at 6:39.
Stalker: Begins with whispers almost identical to the Stalker.
Trinity: Can be seen at 2:05 in this trailer, albeit with a different glow pattern on the face plate.
Ship: The first corridor to be seen looks exactly like one of the Corpus' corridors.
Barrels: Same destructible Corpus containers. Seen multiple times.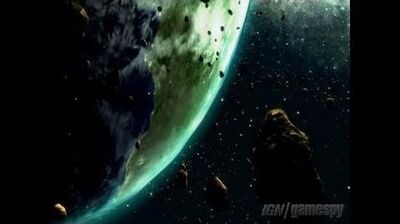 Trending pages
All items (25)
B
C
D
E
F
G
I
J
L
N
O
S
T
Z
Community content is available under
CC-BY-SA
unless otherwise noted.