A Bounty is a series of missions given out by a bounty board NPC (Konzu in Cetus, or Eudico in Fortuna) to undertake tasks in Landscapes (Plains of Eidolon or Orb Vallis respectively, which give various rewards upon completion, including the town's Standing.
Mechanics
Edit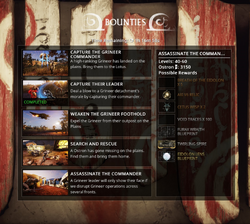 The Bounty Board will periodically generate a list of bounties, and players are able to select which bounty they will perform. Players will be able to see the bounty's expected enemy level, Standing reward, and a list of possible completion rewards before confirming their selection. Once selected, a marker will appear on the on the city gate, indicating the location of the Bounty's first objective.
Bounties are multi-stage missions strung together by a theme/goal, where players have to accomplish a sequence of three to five objectives (Stages) randomly located in the landscapes. To complete the Bounty, players must accomplish their current Bounty stage successfully, after which the next stage is then revealed on the map. The individual missions assigned to each Bounty are randomized, and consists of mission types used in Incursions, which include Supply Sabotage, Cache Recovery, Liberation and others.
Bounties with higher enemy-level will require a minimum Mastery Rank to select. These can still be played, when an eligible squad member selects one.
The bounties provided in the bounty board are tiered by difficulty, with the topmost bounty being the easiest, and the bottom one the hardest. Consequently, the rewards offered are different between bounties, with higher level bounties rewarding better and more exotic items. As rewards are given at the end of each stage, higher level bounties also give more rewards than the shorter low level bounties.
Each level bracket has a set of three reward pools, which are changed every Bounty cycle. The active pool determines what rewards are available. Each pool is in turn broken into several rarities,which will affect the items' drop rate, or their chance of actually appearing as a reward. The levels are bronze for Common, silver for Uncommon, and gold for Rare. Later Stages in the Bounty will make these rarer rewards available, and so these Stages are like the later reward Rotations in Endless missions. The last stage in a bounty will only award Uncommon or Rare rewards.
Completing each Bounty stage will reward the player with one of the possible rewards for that Bounty, as well as a small amount of Standing. The Bounties can be repeated for the item and Standing rewards.
3-Stage Bounty
4-Stage Bounty
5-Stage Bounty

Stage 1: Common
Stage 2: Common, Uncommon
Stage 3: Uncommon, Rare

Stage 1: Common
Stage 2: Common, Uncommon
Stage 3: Common, Uncommon
Stage 4: Uncommon, Rare

Stage 1: Common
Stage 2: Common, Uncommon
Stage 3: Common, Uncommon
Stage 4: Common, Uncommon, Rare
Stage 5: Uncommon, Rare
Before a Tenno can access Cetus bounties, consisting of Field Bounties and Ghoul Purge Bounties, they must first prove themselves to Konzu by completing an introductory bounty (Level: 3-5).
Field Bounties
Edit
Field Bounties are accessible by default from Konzu at any time of the day. These bounties refresh every 2½ hours (a full day/night cycle in the Plains) and will offer different rewards and mission theme every time. Each tier has a Mastery Rank lock, as follows:
Level 5-15: No Mastery lock
Level 10-30: Requires Mastery Rank 1
Level 20-40: Requires Mastery Rank 2
Level 30-50: Requires Mastery Rank 3
Level 40-60: Requires Mastery Rank 5
Ghoul Purge Bounties
Edit
Ghoul Purge Bounties are accessible only during a Ghoul Purge event which occurs once every few weeks. During the event, the Plains of Eidolon will be increasingly populated with Ghoul enemies, and Konzu will subsequently offer two more Ghoul-themed bounties within their bounty boards. When the event starts the Lotus will send the player an inbox message informing them about the Ghoul Purge.
Eidolon Hunt Bounties
Edit
Eidolon Hunt bounties are only accessible when the Plains of Eidolon has entered nighttime and the Tenno possesses an Amp. These bounties do not provide any rewards, and are only used for matchmaking purposes with fellow Tenno with similar goal. There is no difference in gameplay or reward Eidolon hunting with or without these bounties.
Before a Tenno can access Orb Vallis bounties, they must first prove themselves to Eudico by completing the Vox Solaris quest.
Field Bounties
Edit
Field Bounties are accessible by default from Eudico or the Solaris United Agent just outside Fortuna. These bounties refresh every 2½ hours. A bonus objective is given for each mission in the bounty, which rewards additional standing if completed.
Returning to Cetus/Fortuna, or leaving the Plains of Eidolon/Orb Vallis before the bounty is complete will cancel it. Players will have to go back to Konzu/Eudico to activate the bounty again.
While Bounties are designed such that each stage will have its own unique mission, it is occasionally possible for a Bounty to have the same mission type repeat in its stages.
Bounties are the only way to obtain the component blueprints for building Gara, Revenant and Garuda.
Prior to

Update 22.8

, Bounties gave Standing only once, and upon repetition rewarded only the items. The "completed" status is a leftover from that and currently doesn't indicate anything.
Incursions, the random single-stage bounties, which appear while in the Plains without an objective
Sorties, which feature a similar multi-stage mission mechanic.
Patch History
Edit
Last updated: Hotfix 22.20.4