"You're not supposed to be in here! You're going to ruin the surprise!"

The following section contains spoilers.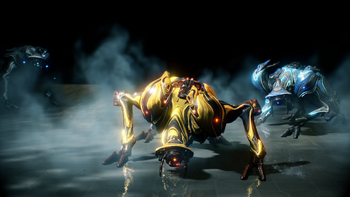 Bosses are a unique enemy class outfitted with superior weapons, high health, rechargeable shields, special abilities, and other traits. They are far stronger than regular units as they will use varying strategies to deal damage and avoid taking it. More often than not, they require team coordination to defeat.
Assassination Bosses
These Bosses are found on Assassination missions. Each boss has a set of lines to "taunt" the Tenno sent to kill them. They drop mods and resources upon death. Depending on which Boss the player is fighting, Blueprints of Warframes parts and special Weapons parts will often be rewarded upon mission completion.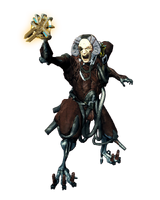 Main article: Captain Vor
Captain Vor is the Grineer officer responsible for the players' awakening in the opening moments of WARFRAME. He is also the first boss that players will be required to defeat.
Vor is one of the few figures in the Origin System that understand ancient Orokin technology, and is capable of utilising it and merging it with Grineer technology to create offensive weapons such as his trademark Seer pistol and his armour, which is powered by a Void Key. This "Janus Key" also grants him a powerful ranged beam attack, impenetrable shielding and the ability to teleport.
Captain Vor can be encountered in three locations currently, making him the most recurring boss in the game aside from the assassins. First appearing at the end of the Vor's Prize quest and thus being the first boss that players must fight, he also serves as the boss of Mercury; he then appears again, somehow fully alive, on Ceres alongside Lieutenant Lech Kril, then appearing later yet again as a Corrupted version of himself within the Void.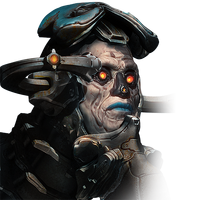 Main article: Councilor Vay Hek
Councilor Vay Hek is the administrator of Earth on behalf of the Grineer Queens. He has been marked by the Lotus for assassination for upsetting the balance in the system by killing several political opponents. He is also known for being heavily modified with Grineer alterations, having little noticeable remaining flesh while he rides in his giant Terra Frame.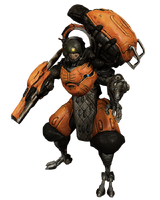 Main article: General Sargas Ruk
General Sargas Ruk is the final boss of the Saturn system. The head of one of the Grineer Artifact extraction projects, Sargas Ruk was targeted by the Lotus for annexing Tenno-controlled dig sites. Ruk enjoys Grineer augmentation, even going as far as replacing the lower part of his right arm with a massive flamethrower and replacing his normal vision with a single augmentation in the center of his helmet.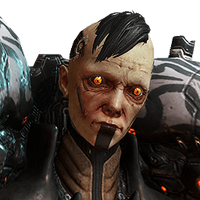 Main article: Kela De Thaym
Kela De Thaym is the final boss of the Sedna system. Bloodthirsty and sadistic, De Thaym owns the combat arena known as Rathuum, where would-be defectors are forced to fight for their freedom against Kela's Executioners, to the delight of her audience.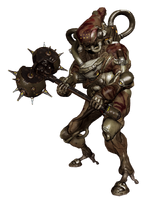 Main article: Lieutenant Lech Kril
Lieutenant Lech Kril is the boss of Mars, and a dual boss on Ceres alongside Captain Vor. A revered war hero clad in impenetrable armor and armed with his signature hammer and
Cold/
Heat abilities, Lech Kril is a formidable adversary for anyone who opposes him.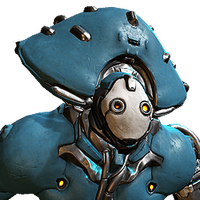 Main article: Tyl Regor
Tyl Regor is the final boss of the Uranus system and the head researcher focusing on Grineer gene repair in an attempt to reverse the negative effects from excessive cloning. He was targeted by the Lotus in order to slow down this progress, ensuring that the Grineer do not become more powerful.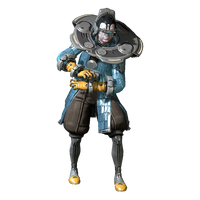 Main article: Alad V
Alad V was a member of the Corpus Board of Directors and the head of Grineer Relations. He is the most recurring Corpus boss in terms of his involvements with various Events. Originally the creator of the ambitious Zanuka Project (an initiative to create advanced robotics by using Warframe components), its eventual failure saw him removed from the Board of Directors and replaced with his long time rival, Frohd Bek.
Disgraced and on the run from his former Corpus backers, Alad eventually became obsessed with the promise of biological ascendancy via Technocyte Infestation, with the hopes of dominating the Origin System through his so-called "Mutalist Empire". His mind falling prey to the Infestation, Alad V went as far as using the Technocyte on his own body and sacrificing prototypes from his Zanuka Project.
After being defeated a second time and purging his body of the Infestation, Alad V now serves as an unlikely ally of the Lotus and the Tenno, even attracting the hatred of the Stalker and his allies in the process.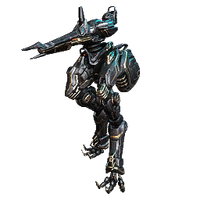 Main article: Ambulas
Ambulas is a cutting-edge Corpus combat proxy, serving at Hades as boss of the Pluto system. Apart from being heavily armed, its most dangerous feature is the Animo processor, which allows it to learn on its own whenever it is defeated in combat, ensuring that Ambulas proxies cannot be defeated by the same strategy twice.
Ergo Glast, who is responsible for the Animo processor's creation during his time with the Corpus, tasks the Tenno with tracking down and destroying the Ambulas manufacturing plant in order to prevent a repetition of the catastrophe which occurred when the Orokin made similar strides with advanced AI.
After defeating it and finishing the mission, the player will receive Trinity component blueprints. Upon death, Ambulas has a chance of dropping Morphics as well.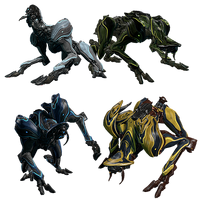 Main article: Hyena Pack
The Hyena Pack are the final bosses of the Neptune system, made up by four unique and deadly variants of the Hyena proxy. They work in packs of up to four with each of them possessing a unique set of abilities. Each Hyena possesses a plasma repeater, and they are far more agile than any other enemy (other than the Grineer Manic) in the game, including Zanuka and Zanuka Hunter. Alongside their agility, they can also jump on to and cling to walls, though they cannot wallrun. Lotus has marked them for assassination for obvious reasons, as they are a very dangerous proxy group and destroying the models may slow down further production.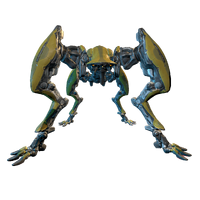 Main article: Jackal
Jackal is the final boss of the Venus system, and represents the first Corpus boss that players encounter. Although a more bulky and old model compared to more recent Corpus robotics, the Jackal possesses invulnerable shields, a giant shockwave ability to knock players down, and one of the most powerful corpus weapons, the Plasma Grenade Cluster. Dissected models of the Jackal can be found in some Grineer tilesets, either showing that the Grineer have interest in utilizing Corpus technology, or that they have simply purchased merchandise.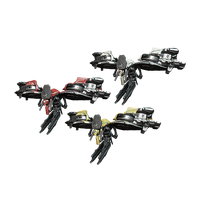 Main article: Raptors
The Raptors are Corpus Bosses found in the Europa system, and are the only Corpus bosses capable of flight. They are all, in effect, extremely powerful Ospreys, with each boasting high defenses and damage output. Fighting them requires both mobility and cover to avoid their highly damaging attacks. All three models possess heavy armor on their backs but vulnerable underbellies and engines. They can be found in the Naamah mission node on Europa. After defeating them and finishing the mission, players will receive either the Nova Chassis, Neuroptics, or Systems blueprint. Upon death, the Raptors have a chance of dropping Morphics, Control Modules, or Neural Sensors.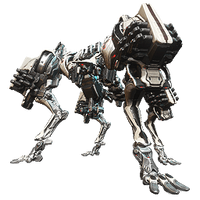 Main article: Razorback
The Razorback is a Corpus proxy introduced in the Divine Will Tactical Alert in Hotfix 18.4.10. The latest creation of Nef Anyo, who boastfully claims that it is "impervious to evil", it has one weakness however: it is not immune to the attacks of Anyo's previous creations; the Bursas.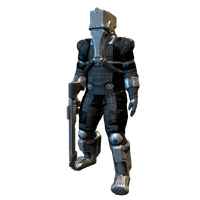 Main article: The Sergeant
The Sergeant, formerly known as Sgt. Nef Anyo before Update 16.4, is the final boss of Phobos system, formerly Mars. He is in charge of the Corpus solar rail systems, using them to obtain Cryopods with dormant Warframes for resale to rogue scientists and splinter groups. When confronted by the player during the mission, he has a very aggressive tone towards the Tenno and warns the player that they are making a fatal mistake by attempting his assassination. He also may demand information regarding Orokin secrets, or make fun of the player's Warframe or teammates.
Main article: Mutalist Alad V
Controlled by the Infestation and corrupted with its power, Mutalist Alad V is the boss of Eris introduced in Update 15.5. To fight him, players need to craft the Mutalist Alad V Assassinate Key with the blueprint awarded from completing the Patient Zero quest. Only the player starting the mission will lose a key, similarly to Orokin Derelict keys.
Main article: Lephantis
Lephantis is a massive, multi-headed Infested boss introduced in Update 10.0. It is found in the Assassination mission located in the Orokin Derelict. To fight Lephantis, the player must craft a Derelict Assassination key, which requires five Lephantis Nav Coordinates. These special Nav Coordinates can only be obtained from Derelict missions. Defeating Lephantis will reward the player with a blueprint for the Neuroptics, Systems, or Chassis of the Nekros Warframe upon mission completion.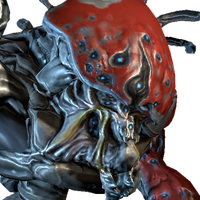 Main article: Phorid
Phorid is an

Infested boss, found when an invasion takes over the Assassination mission of a planet. After defeating it and finishing the mission, you receive a Nyx Neuroptics, Chassis, or Systems blueprint. Upon death, Phorid has a chance of dropping rare resources of the planet he appears on.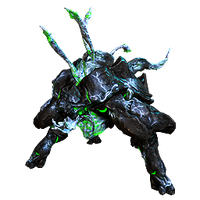 Main article: Juggernaut Behemoth
The Juggernaut Behemoth is the larger, boss variant of the Infested Juggernaut enemy.
It is a massive quadruped Infested creature, armed with formidable ranged attacks and deadly close-quarters combat abilities, which combined with its heavy armor makes it an intimidating opponent. Initially introduced in the Black Seed Scourge Tactical Alert, it can now be found in the last mission of The Jordas Precept, as well as the first portion of the Jordas Golem assassination mission.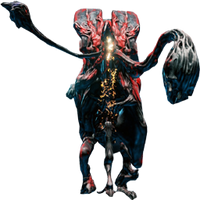 Main article: Jordas Golem
The Jordas Golem, also known as J3-Golem, is the Infested Boss of Eris. An amalgamation of Infested flesh merged with Corpus ship technology and a reprogrammed Cephalon, the massive Jordas Golem uses powerful weapons combined with its formidable armor to combat enemies in deep space. The Jordas Golem is found in its own Assassination node on Eris after a player has completed the Jordas Precept Quest. After defeating them and finishing the mission, you receive either Atlas Neuroptics, Chassis or Systems blueprint.
Field Bosses
Field Bosses are rare boss-like enemies that hunt players in random locations outside Assassination missions. Some field bosses only spawn after earning their respective Death Marks in the process, while others require players to be in a specific mission in order to spawn. Defeating these rare enemies may yield exquisitely rare resources, parts and blueprints.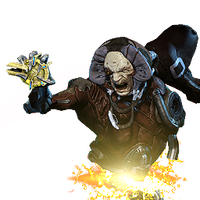 Main article: Corrupted Vor
Corrupted Vor is corrupted Captain Vor and is the boss of the Orokin Void as an encounter in the high level (Tier 4) Void missions (Level ≥40). It is known that he was revived by his own Orokin Key sometime after his defeat and has since turned into the guardian of the Void. Vor will make his presence known via a taunting transmission, after which he will appear near players to engage them in battle.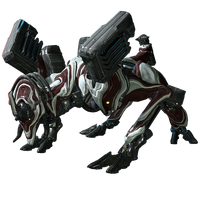 Main article: Zanuka Hunter
Zanuka Hunter, formerly dubbed as Harvester, is a gray-colored Zanuka proxy controlled by Alad V. During missions, it will attack one targeted Tenno until either the Tenno or Zanuka Hunter dies. It appears rarely, in a manner similar to the Stalker. Triggering a Zanuka Hunter attack requires a player to have a Death Mark, acquired by fighting against the Corpus across five Invasion missions, or it can be summoned by using a Zanuka Hunter Beacon.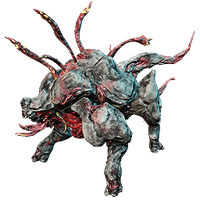 Main article: Juggernaut
The Juggernaut is a large, quadrupedal Infested creature armed with formidable ranged attacks and deadly close-quarters combat abilities. Combining these threats with its heavy armor shell, the Juggernaut becomes an intimidating opponent. The Juggernaut's abilities include a charging body attack, a ranged spine strike (a scaled version of the Phorid's similar attack) and the ability to resurrect a number of nearby dead Infested.
Main article: Lynx
The Lynx is a Field Boss that is encountered in an Orokin Sabotage (Marduk) that feature Corpus enemies, acting as the main miniboss from which the mission's Void Key drops. A (presumably stolen and re-programmed) Lynx can also appear as an active miniboss in one of the Grineer Spy mission tiles as a room centerpiece; the Lynx will activate if the player has been spotted/tripped the alarm before hacking the data vaults. It resembles a smaller Jackal with blue armor, and has the ability to deploy Osprey drones and Turrets to assist it in combat.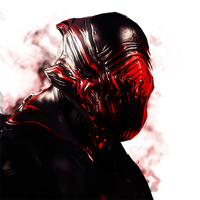 Main article: Stalker
The Stalker is an ominous, vengeful figure that infrequently appears during missions, armed with powerful weapons and abilities to hunt down the Tenno.
The Stalker wears Warframe armor and is able to use ability powers belonging to various other Warframes. His arsenal is similar to that of the Tenno, utilizing a primary, secondary, and melee weapon. The Stalker's signature weapons are the bow Dread, the scythe Hate, and the throwing knives Despair.
If the Tenno marked for assassination has completed The Second Dream quest, they will be confronted with the more powerful, Sentient-enhanced Shadow Stalker instead.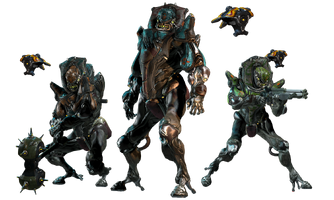 Main article: The Grustrag Three
The Grustrag Three (commonly abbreviated as the G3) are a group of Assassins, founded by Councilor Vay Hek, who come after Tenno that have completed five consecutive Invasion missions against the Grineer.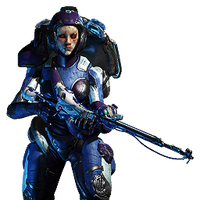 Main article: Ven'kra Tel
Ven'kra Tel is a special Grineer Field Boss unit encountered in Orokin Sabotage missions where Grineer are the dominant enemy, who is one of the two units who guard the Void Key necessary to close the Void Portal. She possesses a blue jet pack identical to that used by Hellions that grants her excellent mobility, and can use her Vulkar and other ranged special abilities to engage Tenno from afar.
Ven'kra Tel is always seen with her sister, mini-boss Sprag.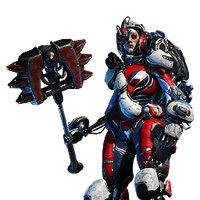 Main article: Sprag
Sprag is a Grineer Field Boss encountered during Orokin Sabotage missions where Grineer are the dominant enemy. She is one of the two units who guard the Void Key necessary to close the Void Portal. She possesses a jet pack identical to that used by Hellions that grants her excellent mobility, and can use her Manticore Axe and other special melee abilities to engage Tenno in close combat. Sprag is always seen with her sister mini-boss, Ven'kra Tel.
Retired Bosses
Notes
All bosses and assassins have a rare chance to drop an Orokin Cell upon death. This chance is fully separate from the planet's resource drop rate.

As such, it is possible for General Sargas Ruk and Lieutenant Lech Kril to drop two instances of Orokin Cells, the first instance coming from the planet's rare drop and the second instance coming from the rare chance.
Patch History
"Ah, have you come to make a donation to my newest 'enterprise'...?"

Patch history is needed. Click here for instructions.
See also