Hi Warframe community!
Apologies that I was not able to jump in sooner on this topic. I am considering this post to be a continuation of the conversation found here. It's been great to see voices from both the editors as well as the Discussions users represented there. I'll use sections to both address specific areas of feedback/concern and give some updates on what's coming up for Discussions.
If you have the Warframe app installed, be sure to update to the latest version that becomes available this week for both Android and iOS!
Moderation
As you have seen, in the web version of Discussions there are a few more moderation tools than currently in the app. Mainly the ability to see "reported" content and take action on it. These functions will be added to the app as time goes on. However, also note that the "mobile web" layout (as seen on a phone's web browser) has all the same options as desktop. So moderating from a phone is quite possible.
I do suggest that the admin team consider some of the "app users" who are interested in the Discussions Moderator role. Especially if no one from the editing community is going to take on those duties. Wikia can help review reporting logs to identify and review good candidates, but I see some have expressed interest already. This method has worked well on Wookieepdia, Nukapedia, and Pokemon Wiki — all of which have recently promoted moderators who got their start using the app.
I know there is some concern about doing this, since Discussions Moderators also have power in Forum, Wall, Comments and Chat. But it's quite easy to ask a "from the app" moderator to simply not use their power in those features, and they would of course be demoted if they violate that agreement. You can start by assuming good faith, in this way. There's even a user on Elder Scrolls who got their start in the app and has now become a prolific editor!
Moderators still need to be connected to the admin team as well, since mods cannot block users. We're now working to build better connections between the two sections of the community (see below for more) so the separation will start to become less severe.
Styling/design
Mobile is quickly becoming the primary way that users find and access Wikia content. Not just apps, but on mobile web as well. So the Discussions design has been on a "mobile-first" path. That does not mean that desktop is disregarded, but we need to start with mobile and then expand out. After all, it's easier to start smaller and then add things, rather than start big and then figure out what to remove. The desktop layout will continue to evolve and we'll be looking at adding further customization options. In the near term this includes the ability to edit the community avatar image (square) and the wider header image. Some theme adjustment is possible via Theme Designer now. We would like to hear more about what specifically you would want to customize.
Making connections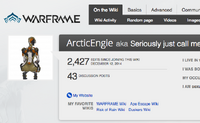 Starting tomorrow, you'll begin to see a user's Discussions post count noted on the wiki profile masthead. See screen shot below! When the count is more than zero, it will be linked to the list of the user's Discussions posts and replies (so here for the example of ArcticEngie).
We can also enable a footer module on each article page, that showcases Trending discussions. Check out any page on Marvel Database or DC Database for examples. This will showcase Discussions to web visitors and should result in more participation from web visitors.
Please note that this module will replace the Forum module that sometimes appears on articles if the Forum's "topics" function is being used. Let me know if you would like this module enabled for Warframe, it can be enabled at any time. In the future, the module's content will become more specific to individual articles, when there are related discussions.
Structure
On Thursday we expect to release some new functionality for Discussions — Discussion categories. These will function like boards in the Forum, but also as a filter for reading. Categories can be set up by admins via the desktop/web version. But they will be visible to all users, as long as they have the most recent app version. Users will have to choose a category before posting anything.
This should bring a much more organized and forum-like feeling to Discussions. So those of you who are apprehensive about continuing use of the feature, I urge you to reassess in a few weeks and see how things are progressing once categories are in place.
The future
I should also be very clear about something that was mention in my initial visit a few months back — the current Forum feature is eventually going to be retired, and its content will be migrated to Discussions. So the idea of "merging" that has been suggested is quite real.
Discussions has some more growing to do before it's ready for this merger, so don't worry, it's not happening "tomorrow" or anything. But the Forum's time is coming to a close, and everyone should be prepared for Discussions to take over as the main area for conversational interaction. I am sure you have noticed Forum is difficult to use on mobile devices, and none of its content shows up in Search properly. These are just two of its bigger problems, it has plenty of small bugs and deeper flaws.
There's no specific timeline for when the Forum migration will come to Warframe, but we'll be in touch well beforehand to work directly with you and determine "what goes where" and such. I am sure this subject brings up lots of questions, and all will be answered before any migration work gets started. We'll be migrating lots of smaller communities' Forums before we get to Warframe.
So where does that leave things?
Exactly how Discussions is used is for this community — the whole community — to decide. As some other users have pointed out, there's quite a lot of people using Discussions and this should not be discounted. It's clearly already proving itself as way to GROW this community. But you might have to revisit some assumptions and processes to take full advantage of that.
I strongly advise that you make the Discussions users a part of whatever decisions are made about rules and policies and such. Imposing things that are only decided by the editors will only deepen divided and cause resentment. I know that all of you can work together to help truly make this one community. It's challenging and even scary, but the benefits in the long term should be clear — a thriving group of people that make the Warframe Wiki the best place on the internet for Warframe fans, no matter how you get online to see it.
Community content is available under
CC-BY-SA
unless otherwise noted.