Baro Ki'Teer, also known as the Void Trader, is a character known for his love of the exotic and the luxurious, especially those involving the Orokin Void. He involves himself with the Tenno by selling various rare artifacts and valuable items unavailable anywhere else.

Baro Ki'Teer makes appearances within the Concourse section of the Tenno Relays, although his presence is not constant; he makes appearances every two weeks, and is only available for trading for up to 48 hours after surfacing before he disappears once again. A countdown timer is displayed on the two Void Trader Kiosks found near him, indicating the time until Baro Ki'Teer will next become available for trading. While the Void Trader is present on a relay, the countdown timer on these kiosks changes to display the time remaining until he leaves.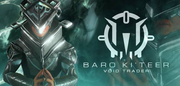 24 hours prior to his arrival, an icon can be seen on the Star Chart near the relay where the Void Trader will be during his next visit, which will slowly move along the path to the relay during this period. Once he has arrived, players will receive a message from Baro Ki'Teer in their inbox, notifying them as to which relay and on what planet he can be found.
Next Appearance
Latest Visit Offerings
PC
PlayStation, Xbox, & Nintendo Switch
Accessing Relays
Main article: Relay#Accessing the Relay
Relays are accessible by selecting a planet with an available relay in the Navigation Console, and then entering the relay node as one would enter a mission. During the Operation Eyes of Blight event, certain relays were destroyed by Balor Fomorians, which differed depending on the platform. Relays that have been destroyed show up in navigation as an unusable node. The following are the list of relays currently available in each version:
*See The Pyrus Project
All Relays except Maroo's Bazaar will have a chance to be visited by Baro Ki'Teer.
Note that each instance of a relay can be occupied up to 50 players. When the status of an instance is busy, another instance will appear in case of players have fully occupied said instance to allow more other players to occupy it.
Ducats
Almost every item sold by Baro Ki'Teer requires Ducats as payment, a unique currency that can only be acquired by exchanging Prime parts at one of two of the Ducat Kiosks in the Relays. Prime weapon parts, Prime Warframe components, and Prime Blueprints can be exchanged, with rarer parts being worth more Ducats.
View Ducat Values by Relic Tier List
▾
▾
Where applicable, Blueprints are worth the same as their Crafted counterparts.
Trades
Baro Ki'Teer sells a limited stock of unique items from the Void. His selection of stock changes with each appearance, making his items limited in availability.
He will always have a Sands of Inaros blueprint and a Baro Void-Signal in his kiosk. The Sands of Inaros blueprint requires Mastery Rank 5 to purchase, while the Baro Void-Signal is exclusive to players interacting him with

 Inaros Prime and can only be purchased once per visit.
During annual TennoCon events, Baro Ki'Teer's entire inventory becomes available to attenders.
Offerings History
Collapse All
Expand All
Total Items: 281 | Cost: 52,966,000 Credits

 52,966,000
83,850 Ducats
 83,850