Release Date: March 18th, 2013
Banshee is a sound-themed Warframe. Sophisticated acoustic powers enable Banshee to pinpoint enemy positions and weak spots, suppress gunfire sounds in her surrounding environment, and even emit trembling vibrations to topple her foes. Banshee debuted in Update 7.0 (2013-03-18).
Acquisition
Banshee's blueprints can be researched from the Tenno Lab in the Dojo.
Manufacturing Requirements

25,000

1

1

1

1
Time: 72 hrs
Rush: 50
 Market Price: 225
 Blueprints Price:N/A
Banshee Neuroptics Blueprint

15,000

150

1

200

500
Time: 12 hrs
Rush: 25
Banshee Chassis Blueprint

15,000

1

900

50
Time: 12 hrs
Rush: 25
Banshee Systems Blueprint

15,000

1

1

500

400
Time: 12 hrs
Rush: 25
Warframe Guides
See Category:Banshee Guides to read user-made guides on how to play this Warframe.
Trivia
The name Banshee comes from the Irish mythological creature which wails loudly if someone is about to die. This corresponds to the Warframe's powers as she is based on sound.
Banshee was originally developed under the name Decree and is still referred to as as such internally in the game files.
The characteristic large spike on Banshee's left shoulder is considered a customizable Armor part, and will be removed if any other arm plates are used. This makes it possible to make a symmetrical Banshee.

"Market forces dictate that you need to evolve or die."
Banshee Prime is
Vaulted
.
The
Void Relics
for this item have been removed from the
drop tables
and do not drop during gameplay at this time. Vaulted Void Relics already contained in player inventories are not affected and can still be either opened or
traded
between players.
Release date: February 28th, 2017
Banshee Prime is the Primed variant of

 Banshee, possessing higher armor, energy capacity, and sprint speed, as well as an additional
polarity. Banshee Prime was released alongside

 Euphona Prime and

 Helios Prime.
Acquisition
Manufacturing Requirements

25,000

1

1

1

5
Time: 72 hrs
Rush: 50
 Market Price: N/A
 Blueprints Price:N/A
Banshee Prime Neuroptics Blueprint

15,000

2

6,000

1,500

2
Time: 12 hrs
Rush: 25
Banshee Prime Chassis Blueprint

15,000

10

1,500

2,000

7,000
Time: 12 hrs
Rush: 25
Banshee Prime Systems Blueprint

15,000

2

10

300

4,500
Time: 12 hrs
Rush: 25
Vaultings
Notes
Banshee Prime, compared to  

Banshee

:

Higher Armor (125 vs. 100)
Higher Energy (175/262 vs. 150/225)
Higher Sprint Speed (1.15 vs. 1.1)
Higher Mastery Rank required (8 vs. 0)

As a Prime Warframe, Banshee Prime possesses a special passive ability where contact with an Orokin Void Death Orb will make them release an energy pulse that grants 250 Energy to all nearby allies. This effect can only occur once per Death Orb, and can occur even if the Death Orb has been previously destroyed.
Banshee Prime, along with  

Loki Prime

,  

Nova Prime

,  

Oberon Prime

and  

Ivara

, has the second highest amount of energy (175 base, with 262.5 at max rank), with  

Chroma Prime

,  

Volt Prime

,  

Saryn Prime

,  

Ivara Prime

,  

Baruuk

, and  

Wisp

having the highest (200 base, with 300 at max rank).
Trivia
Banshee Prime is the third Warframe to have a direct Mastery Rank requirement, the first being  

Rhino

and the second being  

Oberon Prime

(as of

Update 19.13

(2017-03-09) the mastery rank requirement for Rhino has been removed). She is also the second Warframe to have a Mastery Rank (direct or indirect) above the common 5, the first being  

Titania

.
The Banshee Prime Access Pack was unintentionally teased in console version 19.8.0.
Players who won the Prime Gaming Giveaway received the Banshee Prime Access Pack on

Hotfix 19.11.4

(2017-02-22), a week before the pack's official release.
Media
See Also
Prime, the Orokin enhancement to a Warframe or weapon.
Passive
All of

 Banshee's equipped weapons, including Gunblades, such as
 Redeemer, and weapons equipped on Sentinels, should they be present, are treated as silent.
Abilities 
Input table not loaded. Javascript not loaded
Result table not loaded. Javascript not loaded





Banshee channels sound at high velocity to create a shock wave that propagates forward in a 180° cone up to 10 / 12 / 13 / 15 meters away. Enemies caught by the wave are ragdolled several meters and receive 25 / 35 / 40 / 50  

Impact

damage.

Damage is affected by Ability Strength.
The shock wave does not affect enemies behind obstacles in the environment unless Banshee has line-of-sight.
Range is affected by Ability Range.
The shock wave will have a very slight delay between activating and knocking down enemies at the maximum range of the ability, as it has a very minute travel time.

Some enemies, including most heavy units, have a cooldown before being able to be knocked back again.
Some enemies will simply be stunned or be knocked down, but most will be pushed back.
Can be used while jumping, sliding, flipping, wall-running or wall-clinging.
Delay of about 0.8 seconds between uses.
Main article: Sonic Fracture
Sonic Fracture is a Warframe Augment Mod for

 Banshee's

 Sonic Boom that allows it to temporarily strip armor off enemies.
| Rank | Armor Reduction | Duration | Cost |
| --- | --- | --- | --- |
| 0 | 30% | 2s | 6 |
| 1 | 45% | 4s | 7 |
| 2 | 55% | 6s | 8 |
| 3 | 70% | 8s | 9 |
Can be used effectively as a source of instant crowd control to get large amounts of enemies out of your face incredibly quickly.
When combined with  

Energy Siphon

and Maximized Ability Range, this ability can be used continuously to keep large crowds of enemies off their feet until death. This is one of the most energy efficient crowd-control effects in the game.
Since Sonic Boom can knock most enemies back, it can be used to instantly kill enemies by sending them down a bottomless pit.
Sonic Boom will leave enemies vulnerable to Finisher attacks long after they have gotten back up from the knockdown, even if she doesn't have Savage Silence equipped or has Silence active.



ENERGY:




50




KEY


2 

Sonar


Using acoustic location, Banshee's Sonar power finds and tracks enemies, and exposes critical weak spots to everyone in your squad.

Strength

:

2x / 3x / 4x / 5x

Duration

:

10 / 15 / 20 / 30 s

Range

:

20 / 25 / 30 / 35 m



ENERGY:




75




KEY


3 

Silence


Using Silence surrounds Banshee in an aura that stuns enemies and will limit their perceptions and tactical response to gunfire and Warframe attacks.

Strength

:

N/A

Duration

:

10 / 15 / 20 / 30 s

Range

:

10 / 13 / 15 / 20 m

Misc

:2 s (stun duration)
Enemy abilities disabled

Subsumable to Helminth



ENERGY:




25




KEY


4 

Sound Quake


Channeling all of her acoustic energy into the environment, Banshee uses ultrasonic reverberations to violently shake the ground.
Energy Drain: 25 / 18 / 15 / 12 s-1

Strength

:125 / 150 / 175 / 200 ( 

Blast

damage)

Duration

:

N/A

Range

:

12 / 15 / 18 / 20 m
Banshee plants her hands on the ground, releasing ultrasonic reverberations around her which inflict 125 / 150 / 175 / 200  

Blast

damage per second and stagger all enemies within 12 / 15 / 18 / 20 meters.

Damage is affected by Ability Strength.
Damage does not diminish with distance and does not require line of sight.
Range is affected by Ability Range.

Sound Quake drains 25 / 18 / 15 / 12 energy per second, and will remain active so long as Banshee has energy. Sound Quake will end if Banshee runs out of energy, or if deactivated by pressing the ability key again (default

4

 ).
Banshee is not invincible during the animation.
Enemies inside the area of effect are staggered for the duration of the skill. However, it's possible for an enemy to stumble outside of Sound Quake's range if they are too close the edge of the effective area.
Will destroy lights in the area of effect, but not Reinforced Glass or other objects.
If cast in midair, Banshee will instantly drop to the ground to perform this ability.
Has a cast delay of 1 second and post-cast delay of 1 second.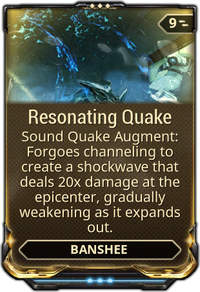 Main article: Resonating Quake
Resonating Quake is an Warframe Augment Mod for

 Banshee that replaces

 Sound Quake's channeling feature for a single, large shockwave that deals bonus damage at the epicenter, but decreases damage as the shockwave spreads.
| Rank | Damage | Cost |
| --- | --- | --- |
| 0 | x10 | 6 |
| 1 | x12 | 7 |
| 2 | x15 | 8 |
| 3 | x20 | 9 |
Using Sound Quake can be a very effective crowd control technique to give your team some breathing room to do some of the following:

Revive a fallen teammate.
Clear out some heavy mobs without retaliation.
Re-orient themselves to dish out some CC of their own.

As Sound Quake's duration is based on the amount of energy one has, ( 

Primed

)  

Flow

and/or the Arcane Reverb Helmet is very useful in extending the effective duration of the ability.
Moas are extremely susceptible to Sound Quake, and it generally works well against other Corpus enemies. Though decent against Grineer, it performs the worst out of the three due to their innate high armor.
While standing on the cryo floors in the Void, Sound Quake's drain is reduced. However, the cast delay is increased and the damage tick occurs once every 2 seconds.
Caused by minimizing the game during the use of Sound Quake. The animation will continue afterward, disallowing any actions. Only leaving or dying will fix it.
While casting, getting knocked back into a bottomless pit or otherwise falling into one (the casting animation moves Banshee forward a little bit), will cause the Sound Quake to persist. It will continue to do damage and stun enemies at the cast point, but will not drain energy. Banshee can move around after coming back up from the fall, but can't do most actions like shooting. Recasting Sound Quake will cancel the damage inflicted by Sound Quake, but will leave the visual effects (camera blur and shake) in the area permanently.
Sound Quake's Blast procs do not actually knock down afflicted enemies (except on the initial shockwave) because the repeated stagger animation caused by the quakes overrides the knockdown. The proc indicator will flash when it occurs, but the enemy that it occurred to will remain standing and staggering around as if it wasn't affected by the Blast proc.
| Strength Mods | Duration Mods | Range Mods |
| --- | --- | --- |
| | | |
| | | |
| | | |
| | | |
| | | |
| | | |
| | | |
| | | |
| | | |
| | | |
| | | |
| | | |
| | | |
Banshee can be equipped with:
Cosmetics
Augments
See Also
Fixed several issues with abilities when forced into Operator (in Zariman Cascade missions for example):

Fixed Banshee's Sound Quake not working correctly.
Fixed camera shake issues with Banshee's Sound Quake.
Enemies that are not affected by CC can now be armor stripped by Banshee's Sonic Boom.
Fixed a few abilities, items and screens that were not applying weapon noise reduction properly nor correctly interacting with Mods that have that effect.

This should resolve issues with Banshee's passive
Improved performance when playing with Banshee.
Banshee Ability videos have been added to their respective Arsenals!
Armor Change:

Banshee: 15 to 100
Banshee Prime: 65 to 125
Why: The conversation surrounding Arcane Guardian led to a significant review of Armor stats on Warfarmes. The Majority of Warframes received an increase in the Armor stat to increase survivability. Compounded with Shield Gating and the numerous other changes covered, we expect a much more fair feeling playing field for all Warframes.
Fixed issues with Ayla, Misa Prime and Pyra Syandana offsets on Banshee Prime.
Sonic Fracture - Sonic Boom Augment - Banshee
Armor Reduction is applied even if Ragdoll fails.
The following abilities require ground to activate, but can now be cast in the air and will do a melee-esque slam to the ground:
Fixed Banshee Sonar reading "CRITICAL MULTIPLIER" when it's actually "DAMAGE MULTIPLIER".
Fixed Banshee's Resoquake only consuming 25 Energy when it is supposed to use 100 (on Clients, it would require having at least 100 Energy, but wouldn't use it).
 

Resonating Quake

(Augment)

Although still a singular cast allowing free movement, Resonating Quake will only hit enemies once as it expands outward.
Fixed a shader issues with Banshee.
Fixed casting Banshee's Soundquake when hitting an enemy with a "grappling hook weapon" allowing you to move around.
Fixed a script error when casting Banshee's Sonar.
Fixed Banshee's Silent stopping the Conculyst Whirlwind attack, rendering the Sentient invincible.
Fixed Banshee's Sound Quake doing slightly less damage at low frame-rates (1.7% less at 30 FPS, 0.8% at 60 FPS).
Fixed a bug that would cause Banshee's Silence to last longer depending on your frame-rate (approximately 5% longer at 60 FPS, 30% longer at 30 FPS).
Buffed Silence's base Duration to 10/15/20/30 (20% at max rank) which now matches Sonar so you can cast them in tandem.
Fixed aggressive flickering lighting when loading into Warframe with Banshee Prime on the diorama.
Fixed Banshee being able to cast a perpetual Soundquake by initiating a handshake then pausing.
Fixed the Teplo Syandana sitting too high on Banshee Prime and Banshee Prime with the default Banshee skin.
Fixed Banshee Sound Quake ability causing her Syandana to fly straight up.
Fixed Banshee Prime's Helmet antennas flying straight up during her Sound Quake ability.
Introduced Banshee Prime.
Fixed Banshee's Silence ability permanently turning off enemy barks.
Passive: All weapons are treated as silent.
Fixed hearing headshot sounds while Silence is active.
Fixed Silence freezing Sargas Ruk during his boss fight.
Fixed Sonar creating outdated enemy markers on the minimap.
Sonic Boom, Silence, and Sound Quake will no longer be able to push, stun, or stagger boss-type enemies.
Augment: Fixed Sonar Resonance not properly functioning when an enemy is ragdolled during the killing blow.
Fixed Sound Quake audio FX still playing after a Host Migration occurs.
Fixed Sonar indefinitely stacking Resonance in the same location without a delay.
Fixed Sonar visual FX displaying as super bright.
Fixed an issue preventing some abilities (such as Sound Quake) from being deactivated using the Power Menu.
Added Apex particles to Push.
Added visual trails FX to Banshee's Ability powers.
Fixed an issue with Banshee's idle animation.
Fixed enemies focusing their attacks on player Sentinels after Silence has been cast.
Fixed Sonic Fracture Mod not affecting all enemies when used by Clients.
Augment: Fixed Sonic Fracture FX lingering if the target became immediately ragdolled.
Fixed Immortal Skin not properly applying to their shoulder pads.
Fixed Resonance Augment Mod not functioning.
Augment: Enemies affected by Savage Silence Mod are now open to finishes while under the effects of crowd control.
Fixed a bug that was incorrectly scaling Syandanas down on Banshee by 20%.

Should address some physics issues with Syandanas.
Trinity's Energy Vampire will no longer provide energy to Banshees performing Sound Quake so as to prevent infinite energy usage.
Sonar ignore security cameras and turrets.
Sonar now uses Energy Colour.
Silence no longer affects the Stalker.
Fixed an issue with Silence not properly affecting Specters or player opponents in Dark Sector missions.
Sonar Fixes:

Fixed the weak spot indicators not appearing correctly for clients.
Fixed AI frames only being able to cast the ability once.
Fixed an issue with all the enemy minimap markers being removed once a single affected enemy is killed.
Fixed an issue with the weak spot indicator being removed prematurely when the ability is cast again.
Fixed an issue with the weak spot damage amplification not being correctly removed after the ability ends.
Fixed an issue with Banshee's Immortal Skin always appearing white.
Fixed Banshee's toggle-able powers being broken by pause menu.
Silence now includes new Aura and stun properties.
Shifted Banshee's shoulder pad back slightly to reduce clipping.
Fixed issue where the FX of Silence does not disappear when the power duration is cancelled by a teleport volume (falling off map and respawning).
Adjusted the positioning of Chest Armor.
Fixed issue where Sonar was not recastable.
Tweaked Sound Quake sound effects.
Fixed Sonar having a cool down discrepancy between host and client.
Fixed an issue with players getting stuck in Sound Quake animation if cast right as they entered into the downed state.
Silence: Is now a radial ranged effect that moves with you. As enemies enter the radius/area, they experience a 'sonic disturbance' which they react to. This disturbance deafens the targets and affects their awareness.
Sound Quake: Players can now control when to deactivate Sound Quake, with the option to toggle it on or off. Sound Quake will consume energy per second while active.
Toggling changes will give players more freedom instead of being locked in place while the rest of your team runs around. It should also add a nice element of resource management, rather than being stuck in place at the cost of X energy.
Tweaked the ability and energy visuals.
Fixed an issue with Sonar highlighting nonexistent weak points on Vay Hek.
Fixed an issue with Banshee's visual effects lingering after usage when experiencing heavy lag.
Improved the code performance on Sonic Boom.
Fixed Imperator Syandana appearing on Banshee's waist.
Fixed Sonar effects lingering after enemies have been killed.
Fixed Banshee's Sonar not showing enemies on clients.
Banshee parts now researchable in the Dojo Labs.
Armor buff from 10 to 15.
Fixed Banshee Immortal skin not being tintable.
Sonic Boom now stunlocks opponents. A cooldown of 5 seconds has been added to Sonic Boom in Duels.
Fixed Sonar leaving mini-map icons for dead enemies.
Added unique casting sounds for Banshee abilities and updated Soundquake and Silence.
Added idle FX.
Fixed Sonar not applying damage multipliers to shields.
Fixed Silence not using correct energy colours.
Fix for crash with Soundquake if gore was disabled.
Fixed Sonar "Power in Use" issue.
Fix for clients not seeing Silence.
Fixed Silence not affecting enemies.
Infested enemy types now play reaction to Soundquake.
Sound Quake has been balanced to do more intended damage amounts on use.
Fixed mods not affecting Sonar.
Fixed Soundquake causing visibility issues for other players (not the caster).
Fixed Push not working against Chargers.
Blueprints moved to the uncommon pool.
Ability SFX
Images
Videos
Abilities Only