Each Warframe has a different style of play and a different set of stats and abilities, or Attributes, that make them unique from other Warframes.
Health
[
]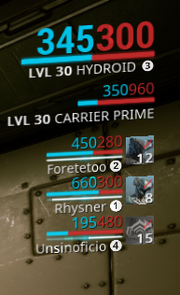 Health represents how much damage a Warframe can sustain before becoming incapacitated or killed. Health is indicated as a red numeric value at the top right of the screen. While a Warframe loses Health, the screen's edges will begin to pulse red. Once the Warframe reaches 10% health or below, a loud, heartbeat-like sound will begin to play, and a slight ringing can be heard. This sound also plays when dead and when incapacitated.
Death
[
]
Upon reaching zero health, Warframes will go into bleedout, which is a twenty-second period of dramatically-reduced combat capability, collapsing onto the ground and only being able to use secondary weapons. If the Warframe is not revived during this time, it dies a proper death and must either spend 10% of their Affinity acquired during the mission to continue playing the mission, wait for an ally to finish the mission, or forfeit the mission entirely. Players are only allowed to revive 4 times per mission, barring special circumstances.
Shields
[
]
Shields are invisible barriers that absorb incoming damage and protects the player from taking Health damage against enemy attacks. Unlike health, shields regenerate after three seconds of not taking damage, making them a naturally replenishing defense.
Overshields
[
]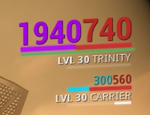 Overshields are extra shield points on top of the normal maximum shielding, which are acquired through the use of active shield restoration items or abilities that would restore shields beyond the Warframe's maximum shield capacity. The player's shield counter changes from blue to purple while possessing overshields.
Armor
[
]
Armor mitigates a percent of incoming damage. Armor only reduces damage applied to a Warframe's Health and does not affect damage absorbed by its Shields.
Energy
[
]
Energy of a Warframe is used mainly to power Abilities. All Warframes have 4 Abilities that at base, cost up to 100 Energy to cast. Every Warframe has their own Energy pool with varying capacities depending on the types and costs of their various Abilities.
Sprint Speed
[
]
Sprint Speed affects how fast a Warframe can run and sprint. Consequently, it also affects the speed and distance they will Slide and Bullet Jump, as well as the speed of certain Warframe abilities.
See also
[
]
Mechanics
Currencies
 

Credits

•  

Orokin Ducats

•  

Endo

•  

Platinum

•  

Aya

•  

Regal Aya

•   Standing
General
Arsenal • Codex • Daily Tribute • Dormizone • Foundry • Market • Mastery Rank • Nightwave • Orbiter • Star Chart
Lore
Alignment • Fragments • Leverian • Quest
Factions
Corpus • Grineer • Infested • Orokin • Sentient • Syndicates • Tenno
Social
Chat • Clan • Clan Dojo • Trading
Squad
Host Migration • Inactivity Penalty • Matchmaking
Gameplay
Affinity • Buff & Debuff • Death • Damage (Status, Type Modifier, Vulnerability) • Gravity • Landscape • Maneuvers • One-Handed Action • Pickups • Tile Sets • Void Relic • Waypoint
Mission
Arbitrations • Empyrean • Sortie • Tactical Alert • The Steel Path • Void Fissure
Enemies
Bosses • Death Mark • Enemy Behavior • Eximus • Lich System (Kuva Lich, Sisters of Parvos) • Overguard
Activities
Captura • Conservation • Fishing • K-Drive Race • Ludoplex • Mining
Stealth
Hacking • Invisible • Noise Level • Threat Level
PvP
Duel • Conclave (Lunaro) • Frame Fighter
Equipment
Modding and Arcanes
Arcane Enhancements • Fusion • Mods (Flawed, Riven) • Polarization • Transmutation
Warframe
Attributes (Armor, Energy, Health, Shield, Sprint Speed) • Abilities (Augment, Helminth System, Passives, Duration, Efficiency, Range, Strength)
Weapons
Accuracy • Alternate Fire • Ammo • Attack Speed • Critical Hit • Damage Falloff • Exalted Weapon • Fire Rate • Melee • Multishot • Projectile Speed • Punch Through • Recoil • Reload • Trigger Type • Zoom
Operator
Amp • Focus (Madurai, Vazarin, Naramon, Unairu, Zenurik) • Lens
Other
Archwing • Companion • K-Drive • Necramech • Parazon • Railjack
Technical
AI Director • Dedicated Servers • Drop Tables • EE.cfg • EE.log • File Directory • HUD • Key Bindings • Material Structures • Mobile Export • Network Architecture • PBR • RNG • Settings • Stress Test • Text Icons • Warframe Arsenal Twitch Extension • World State
Audio
Mandachord • Music • Shawzin • Somachord
Mathematical
Calculating Bonuses (Additive Stacking, Multiplicative Stacking) • Damage Reduction • Enemy Level Scaling • Maximization • User Research