Scorpion is an alternative Helmet Item for 

 Ash. 
Equipping
To equip your newly bought or crafted helmet, go into the "Arsenal" page, then click on 'Appearance' tab, the Helmet will be the first item in the section labeled 'Physique'.
Arcane Variant
For more detailed information visit here: Arcane Helmets
Arcane is a discontinued variant that increases duration of Aim Glide and Wall Latch at the expense of lowering his Ability Efficiency.
Glide & Latch duration +50%
Ability Efficiency -5% (multiplicative)
Ability Efficiency
For more detailed information on Ability Efficiency check the Ability Efficiency page.
As of

Update 8.2

(2013-06-28), Ability Efficiency now causes a linear change in ability cost. Therefore, a 5% decrease in Ability Efficiency will cause all abilities to cost 5% more energy to activate. Ability Efficiency items stack additively (A 20% item with a 10% item leads to 30% increased efficiency).
Trivia
A scorpion is a predatory arthropod animal with a segmented tail, often carried in a characteristic forward curve over the back, ending with a venomous stinger.
The arcane variant of this helmet was accidentally released in an alert (in the guise of a Harlequin Mirage Helmet) on October 4, 2014 due to an oversight in coding.

Update 14.10

(2014-10-08) converted any remaining blueprints to non-arcane variants, but did not convert any fully-constructed helmets, which remained arcane as a result.

A blueprint of the arcane variant was accidently made available through Nightwave Offerings for a short period of time on February 14, 2021 and August 22, 2021.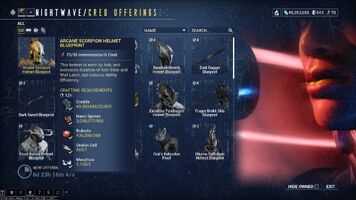 Gallery
Media
Patch History
Hotfix 29.8.1 (2021-02-18)
Nightwave Arcane Helmet Clarification:
Nora Night's latest Cred Offerings include the Arcane Scorpion Helmet Blueprint, a long retired item since Hotfix 13.2.3. This item was actually meant to be a brand new Operator cosmetic, Operator Wolf Hood, but the backend data got a little switched around. The Arcane Scorpion Helmet Blueprint will run it's store life span, at which time the new Operator Wolf Hood will take its intended place in future rotations.
Update 29.8 (2021-02-11)
(Undocumented bug) Arcane helmet reintroduced as a Nightwave Cred Offering.
Warframe Alternate Helmets