Release Date: October 25th, 2012
Ash is a fast, maneuverable Warframe that possesses a high degree of survivability in the field. Fleet movement complements deadly tools of assassination, making Ash a perfect balance between killing potency and stealth.
Acquisition
Ash's component
blueprints
are acquired from
Manics
. Manics have a 33% chance to drop a component blueprint.
Drop
Chance
Expected
Nearly Guaranteed
Chassis Blueprint
38.72%
18 – 19 kills
88 ± 29 kills
Neuroptics Blueprint
38.72%
Systems Blueprint
22.56%
Expected refers to total number of runs a player can expect to receive at least one of each drop associated with the respective values.
Nearly Guaranteed refers to the total number of runs a player needs to obtain a 99%, 99.9%, and 99.99% probability to receive at least one of each drop associated with the respective values.
For more detailed definitions and information on how these number were obtained visit here.
Warframe Guides
"I am the Lotus. I will guide you, but we must hurry."

Guides are created by users like you. They aren't as strictly regulated as most pages, so keep an eye out for dated or subjective information.

Have your own build and playstyle? You can contribute too! Instructions are within.
See Category:Ash Guides to read user-made guides on how to play this Warframe.
Trivia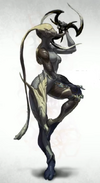 Ash was originally named Smoke, and before that, simply Ninja. He is still referred to as Ninja internally in the game files.
As seen from concept art, Ash was initially slated to be a female Warframe.
Ash, like some of Hydroid's powers, has a unique perk that allows his Blade Storm ability to completely bypass enemy armor due to the attacks dealing

True

damage; the kind of damage used when players perform finishing attacks on unaware/blinded/sleeping enemies.
Ash was the first Warframe that had innate physical weapons associated with his frame, in this case his hidden blades he uses in his Blade Storm ability. The second frame with this innate physical weapon was Mesa and her Regulator pistols she uses in her Peacemaker ability.
Ash has smoke constantly venting from his left arm.
Community content is available under
CC-BY-SA
unless otherwise noted.