Release Date: October 25th, 2012
Ash is a fast, maneuverable Warframe that possesses a high degree of survivability in the field. Fleet movement complements deadly tools of assassination, making Ash a perfect balance between killing potency and stealth.
Acquisition
Prior to Update 29.10 (2021-03-19), Ash's components dropped from Manics.
Ash's main blueprint can be purchased from the
Market
. Ash's component blueprints are obtained from
Venus Proxima
(Systems),
Neptune Proxima
(Neuroptics), and
Pluto Proxima
(Chassis) in Rotation C of
Empyrean
Defense
missions.
| Drop | Chance | Expected | Nearly Guaranteed |
| --- | --- | --- | --- |
| Chassis Blueprint | 10.26% | 9 – 10 C Rotations | 64 ± 21 C Rotations |
| Neuroptics Blueprint | 10.26% | 9 – 10 C Rotations | 64 ± 21 C Rotations |
| Systems Blueprint | 10.53% | 9 – 10 C Rotations | 62 ± 21 C Rotations |
All drop rates data is obtained from
DE's official droptables
.
Expected refers to total number of attempts a player can expect to need in order to receive at least one of each drop associated with the respective values.
Nearly Guaranteed refers to the total number of attempts a player needs to obtain a 99%, 99.9%, and 99.99% probability to receive at least one of each drop associated with the respective values.
For more detailed definitions and information on how these number were obtained, visit here.

Lore
Main article: Leverian#Ash
During the Orokin Era, there was a school of assassination called The Scoria. Each of its members bore a black jewel imprinted between their eyes and treated Ash as their patron saint.
At one point during the Era, the school had two noteworthy students: brothers Dom and Pilio. Dom possessed great skill while Pilio was not as gifted, lacking his brother's grace and clarity, but one day Dom was captured by his target. As capture by the enemy was considered an unforgivable sin to the Scoria, Pilio was given the task to assassinate his brother, a mission that would be overseen by Ash himself. However, Pilio would be torn from killing his brother, were he to succeed, or being killed by his idol, were he to fail.
The pair was dispatched on a tower on Mars, but Pilio failed to overcome the fear that his task wrought, leaving Ash to slay the fifty guardsmen with his Causta Bow and Dual Kamas
 Dual Kamas. Ash led Pilio to their target's chambers, discovering Dom in civilian clothes, casually sharing a glass with a middle-aged mustachioed man whose eyes were sad and kind, and the gem between his eyes removed, signifying that he had betrayed the Scoria. The man gladly called Dom and Pilio his sons before coming to Dom's defense and brandishing a sidearm, which was quickly disarmed by Ash's Blade Storm

 Blade Storm.
Urged by Dom, a confused Pilio questioned Ash, who responded by sinking his blade into Pilio's gem. The gem was suppressing the memories of Dom and Pilio DeNas, who were stolen by the Scoria. The mustachioed man, Lio DeNas, was stealing back his sons. Ash had saved the boy from his turmoil and allowed the DeNas family to escape from Mars forever.
It is unknown why Ash went against the school's doctrine. However, it is known that not even the Scoria were spared from their idol during the fall of the Orokin.
Warframe Guides
See Category:Ash Guides to read user-made guides on how to play this Warframe.
Trivia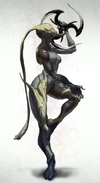 Ash was originally named Smoke, and before that, simply Ninja.[1] He is still referred to as Ninja internally in the game files.
As seen from concept art, Ash was initially slated to be a female Warframe.
Ash, like some of Hydroid's powers, has a unique perk that allows his  

Blade Storm

ability to completely bypass enemy armor due to the attacks dealing  

True

damage; the kind of damage used when players perform finishing attacks on unaware/blinded/sleeping enemies.
Ash was the first Warframe that had innate physical weapons associated with his frame, in this case, the hidden blades he uses in his Blade Storm ability. The second frame with this innate physical weapon was  

Mesa

and her Regulator pistols she uses in her  

Peacemaker

ability.
Ash has smoke constantly venting from his left arm.
References

"Market forces dictate that you need to evolve or die."
Ash is
Vaulted
.
The
Void Relics
for this item have been removed from the
drop tables
at this time and are no longer farmable. Vaulted Void Relics in player inventories are not affected and can still be opened.
Release Date: July 7th, 2015
Ash Prime is the Primed variant of Ash

 Ash, possessing a higher shield capacity, armor and sprint speed, as well as an additional
polarity. Ash Prime was released alongside Vectis Prime

 Vectis Prime and Carrier Prime.
Acquisition
Ash Prime's main and component blueprints are acquired from the following
Void Relics
.
Vaultings
Notes
Trivia
Media
References
See Also
Passive
Any Slash Damage

 Slash procs inflicted by Ash

 Ash (from both weapons and abilities) deal 25% more damage and last 50% longer.
In damage over time calculations, the +25% bonus is currently bugged to apply twice, resulting in a gain of +56.25% damage.

Bonus is also independent of faction damage bonuses, stacking multiplicatively with them.

For example, when using  

Ash

, a weapon that deals 100 damage with  

Bane of Grineer

will have a  

Slash

proc that deals (100 * (1 +  

0.3

)) * 0.35 * (1 +  

0.3

) * (1 +  

0.25

) * (1 +  

0.25

) = 92.42 damage per tick.

Bleed duration bonus stacks additively with status duration mods such as  

Lingering Torment

.
Abilities 
Input table not loaded. Javascript not loaded
Result table not loaded. Javascript not loaded








ENERGY:




25




KEY


1 

Shuriken


Launches a spinning blade of pain, dealing high damage and impaling enemies to walls.

Strength

:100 / 250 / 350 / 500 ( 

Slash

damage on hit)

Duration

:

N/A

Range

:

N/A

Misc

:1 / 1 / 2 / 2 (number of shurikens)
6 m (auto-target radius)
60 m (targeting range)
90° (homing angle)
100 % ( 

Slash

status chance)



ENERGY:




0




KEY


4 

Blade Storm


Project fierce shadow clones of Ash upon groups of distant enemies. Join the fray using Teleport.


Energy per Mark: 12
Energy per Mark (while invisible): 6

Strength

:750 / 1000 / 1500 / 2000 ( 

True

damage)

Duration

:

N/A

Range

:

50 m

Misc

:3 (number of hits per mark)
2 (number of Shadow Clones)
| Strength Mods | Duration Mods | Range Mods |
| --- | --- | --- |
| | | |
| | | |
| | | |
| | | |
Ash can be equipped with the following items:
Cosmetics
Augments
See also
Hotfix 29.10.8 (2021-03-31)
Added acquisition tips to Ash's Component Blueprints as they now live in Railjack.
Update 29.10 (2021-03-19)
Ash have been added to Railjack rewards! Ash Component Blueprints can be found in Corpus Railjack Defense mission rewards.

We've permanently removed Ash Blueprints from Manic drop tables. We did this to connect Railjack to some more 'core Warframe' style rewards, and make their acquisition more straightforward for matchmaking purposes.

Fixed camera becoming frozen in place rather than attached to the player when joining Ash's Bladestorm clones.
Update 29.5 (2020-11-19)
Bladestorm: Applies full number of marks to target at once (instead of needing to waggle mouse). Energy is consumed once per target marked instead of per mark now.
Fixed Spore Ephemera FX appearing as rectangles for Ash's Bladestorm clones.
Hotfix 29.0.8 (2020-09-10)
Fixed Ash's Shuriken ability not being affected by Power Strength Mods.
Hotfix 29.0.6 (2020-09-01)
Fixed a script error when casting Ash's Shuriken ability.
Update 28.1 (2020-07-08)
Xoris Interaction Changes
Certain Warframe Abilities and Exalted weapons will now reset the Melee Combo Counter only if the Xoris is being used. The overwhelming Damage output of certain Warframe Abilities was not our intention with an infinite Melee Combo weapon, and the conversation of 'Xoris or you're doing it wrong' is greatly restrictive in terms of player choice.
Warframe Abilities / Exalted Warframe weapons affected by this are:
The full breakdown can be read here.
Update 27.2 (2020-03-05)
Armor Change:

Ash: 65 to 100
Ash Prime: 150 to 175
Why: The conversation surrounding Arcane Guardian led to a significant review of Armor stats on Warfarmes. The Majority of Warframes received an increase in the Armor stat to increase survivability. Compounded with Shield Gating and the numerous other changes covered, we expect a much more fair feeling playing field for all Warframes.
Hotfix 25.7.6 (2019-09-18)
Increased brightness of Ash's Bladestorm mark slightly to improve visibility.
Update 25.7 (2019-08-29)
Fixed the Atavist Prime Right Shoulder Plate clipping on the Ash Koga skin.
Fixed Ash's Rising Storm combo building much faster than intended due to an interaction with Relentless Combo and a Gunblade weapon.
Update 25.6 (2019-08-08)
Rising Storm - Blade Storm Augment - Ash
Attacks by clones will raise the combo counter
Include a passive benefit to extend the combo counter by a duration
Smoke Shadow - Smoke Screen Augment - Ash
Hotfix 25.4.1 (2019-07-24)
Added Ash's Ability videos to his Arsenal diorama.
Hotfix 25.2.4 (2019-06-27)
Fixed casting Ash's Teleport during Bladestorm resulting in a loss of proper functionality as reported here.
Update 25.1 (2019-06-05)
Fixed Zanuka being unable to capture Ash.
Update 22.19 (2018-05-02)
Ash can no longer Teleport to Cameras and Turrets, as it usually results in placing Ash outside of the map.
Hotfix 22.16.4 (2018-03-20)
Fixed Ash's Bladestorm ability timer not displaying '0' when 0 enemies are marked.
Update 22.15 (2018-03-07)
Fixed Ash's Smokescreen ending while in Operator causing sounds to be perpetually muffled when Transferring back to Ash.
Update 22.14 (2018-03-01)
Ash's Smoke Screen ability sound will now affect (muffle) the sounds for the entire duration of the ability.
Fixed Ash's Shuriken applying numerous Slash Status Effects to every enemy (even ones not hit) if in a group together (using Ferrox's Alt Fire to group enemies closely).
Fixed a script error when casting Bladestorm as Ash Prime.
Hotfix 22.12.4 (2018-02-13)
Fixed a script error when casting Ash's Bladestorm ability.
Hotfix 22.12.3 (2018-02-12)
Fixed Clients not having their melee combo counter increased for Ash's clones hitting enemies in Bladestorm.
Fixed a script error when casting Ash's Bladestorm.
Update 22.12 (2018-02-09)
Bladestorm:

Upon activating Bladestorm, Ash's clones will do the stabbing, leaving the player free to act. Ash can choose to join in the execution by using Teleport on a marked enemy.
Reduced energy cost of Bladestorm's Marks. 12 Energy / Mark when Visible, 6 Energy / Mark when invisible.
Hotfix 19.5.6.1 (2017-01-05)
Fixed a script crash in Ash's Teleport ability.
Hotfix 19.5.4 (2017-01-03)
Fixed a script error caused by Ash's Bladestorm ability.
Update: The Index Preview (2016-10-20)
Damage has been boosted to more than a single one used to do but not as much as both combined.
Update: Specters of the Rail (2016-07-08)
Shuriken will now be deflected when it encounter a Nullifier bubble.
Update: Lunaro (2016-06-15)
Augment: Fixed some cases where Fatal Teleport Augment wouldn't auto finish enemies moving quickly.
Augment: Fixed Fatal Teleport Augment targeting dead bodies.
Augment: Fixed Fatal Teleport Augment failing to activate when moving too quickly (bullet jump, etc.).
Update 18.13 (2016-05-27)
Passive: Bleed Procs dealt by Ash from any source are 25% deadlier and last 50% longer.
Fixed Ash skipping his throwing animation when consecutively casting Shuriken.
Augment: Fixed Fatal Teleport augment Mod not performing finishers on enemies immune to being stunned.
Update 18.11 (2016-05-11)
Update 18.7 (2016-03-30)
Fixed performance issues for Hosts caused by using Bladestorm.
Hotfix 18.5.2 (2016-03-05)
Fixed Teleport not staggering enemies.
Hotfix 18.4.10 (2016-02-11)
New audio FX on Bladestorm's finishing attacks.
Hotfix 17.6.2 (2015-10-08)
Prime: Fixed the Prisma Daelalus Shoulder Armor sitting incorrectly on Ash Prime.
Update 17.4 (2015-09-09)
Fixed Ash being unable to damage themselves with explosive weapons while invisible.
Hotfix 17.0.3 (2015-08-04)
Fixed Bladestorm not knocking players down when used by Clients.
Hotfix 17.0.2 (2015-07-31)
Prime: Fixed the Tethra's Doom Quantum Emblem not sitting properly on Ash Prime.
Update 17.0 (2015-07-31)
Ash's Parts have been moved off Tyl Regor to Manics.
Fixed Bladestorm locking players into a multi-strike animation against Synthesis targets.
Hotfix 16.11.5 (2015-07-15)
Hotfix 16.11.3 (2015-07-10)
Fixed players being unable to put Arcanes on Ash Prime's helmet.
Hotfix 16.11.2 (2015-07-08)
Fixed Ash Prime Helmet not available for Arcane Enhancements.
Hotfix 16.11.1 (2015-07-07)
Fixed Ash Prime parts not dropping for players in the Void.
Update 16.11 (2015-07-07)
Update 16.4 (2015-04-23)
Fixed issue that would cause player's map to break when trying to type during Bladestorm animation.
Hotfix 16.3.2 (2015-04-14)
Fixed an issue that would occur when using Ash's Bladestorm when inside Limbo's Rift.
Hotfix 16.3.1 (2015-04-10)
Fixed Ash getting stuck in Bladestorm animations when used on Zanuka.
Update 16.2 (2015-04-01)
Fixed Bladestorm looping on a single target if that target became immune to the ability after it Bladestorm had begun.
Update 16.1 (2015-03-25)
Fixed an issue with Bladestorm when one of his targets becomes  

Mind Control

led mid-Bladestorm.
Hotfix 16.0.1 (2015-03-20)
Fixed Teleport targeting player sentinels.
Update 16.0 (2015-03-19)
Augment: Fixed Smoke Shadow Augment Mod not functioning properly.
Update 15.16 (2015-02-25)
Update 15.6 (2014-12-11)
Augment: Shuriken -  

Seeking Shuriken

Fixed Bladestorm targeting enemies immune to Abilities after the initial target is killed.
Update 15.5 (2014-11-27)
Fixed Bladestorm disabling all stealth finishers after use.
Hotfix 15.1.2 (2014-11-08)
Augment: Fixed an issue with Smoke Shadow Augment lasting forever if cast by a client who subsequently quits the mission.
Augment: Fixed an issue with Smoke Shadow affecting Defense targets.
Update 15.0 (2014-10-24)
Augment: Smoke Screen -  

Smoke Shadow

Fixed several issues with Bladestorm losing functionality after activating the ability while holding a datamass, powercell, or other secondary items.
Fixed Companions being completely invisible when under the effect of Smoke Screen.
Hotfix 14.10.2 (2014-10-10)
Fixed Bladestorm being continually in use when casted while holding a power cell/datamass.
Update 14.7 (2014-09-17)
PvP: Bladestorm damage multiplier reduced from 0.5 to 0.25.
Hotfix 14.0.11 (2014-07-30)
Reduced the amount of damage dealt by the bleeding proc associated with Shuriken in Dark Sector conflicts.
Reduced the amount of damage of Bladestorm in Dark Sector conflicts.
Update 14.0 (2014-07-18)
Improved the performance of Smoke Screen on lower end PC's.
Hotfix 13.9.1 (2014-07-02)
Shuriken is now registered as a silent projectile.
Teleport now indicates enemies are vulnerable to finishers.
Fixed an issue with Bladestorm that could potentially lead to a loss of Warframe functionality.
Update 11.2 (2013-12-04)
Armor increased from 50 to 65.
Update 10.6 (2013-10-30)
Fixed and response to complaints that Bladestorm will sometimes ignore enemies who are standing right beside the initial target.
Due to people pointing out enemies not being hit enough though their camera "sees" them, Blade Storm will now perform a raycast from the Warframe's eye AND the camera's view position and if the existing conditions are satisfied on either one, the enemy will be included in the hit list.
Update 10.5 (2013-10-23)
Fixed Bladestorm ability that would sometimes ignore enemies who are standing right beside the initial target.
Update 10.4 (2013-10-16)
Fix for Ash "Power In Use" bug when using Teleport on defense target.
Update 10.3 (2013-10-09)
Added local and remote teleport sound slots for Bladestorm.
Prevented Vor's electrical attacks from hitting the invisible players.
Improved Teleport responsiveness – trimmed animation and added reaction to enemy being teleported to.
Update 10.0 (2013-09-13)
Hotfix 9.5.1 (2013-08-10)
Tweak to Ash's new custom idle.
Update 9.5 (2013-08-09)
Added animation and sounds for Bladestorm against Ancients.
Fixed issue with Bladestorm where the Ash's arm may be stuck in his shoulder.
Fixed issue where Ash would become invincible after using Bladestorm on clients.
Update 9.4 (2013-08-02)
Fix for weapons not returning after using Bladestorm.
Update 9.3 (2013-07-26)
Bladestorm ability deals increasing damage as it levels up.
Fixed Smoke Screen VFX to last as long as the ability.
Fixed Smoke Screen from applying effect to clan emblem icon. Emblem now just goes invisible.
Fixed issue of random loss of functionality when using Bladestorm.
Fixed some "stuck" issues relating to Bladestorm.
Update 9.0 (2013-07-13)
Improved color tinting on Ash's smoke armband—more subtle.
Update 8.3 (2013-07-04)
Updated Smoke Screen smoke to use energy color selected by player.
Smoke Screen will not render Ash completely invisible anymore. Ash will now have a white, ghostly model during cloak (color may also be affected by your energy color).
Hotfix 8.1.3 (2013-06-19)
Updated Visual FX on Smoke Screen ability.
Hotfix 8.1.1 (2013-06-10)
Fixed issues with Bladestorm on client.
Hotfix 8.0.6 (2013-05-31)
PvP: Fix Ash teleport in duels, no longer target spectators.
Hotfix 8.0.5 (2013-05-29)
Fixed Shuriken not functioning correctly on clients.
Update 8.0 (2013-05-23)
Shuriken now seeks targets and multiple projectiles added at higher ranks.
Fixed misnamed Ash Systems Blueprints.
Update 7.9 (2013-04-26)
Fixed Bladestorm power, it will no longer target turrets or security cameras.
Update 6.5 (2013-02-22)
Update 6.3 (2013-02-14)
Bladestorm power changed, attacks 5, 7, or 9 targets based on level and teleports back to starting position when the ability ends.
Bladestorm improvements: Ash is now invulnerable when using Bladestorm.
Bladestorm increased number of enemies targeted to: 7, 9, or 12 depending on level.
Update 5.4 (2013-01-14)
Energy cost changes for Ash.
Ability SFX
Images
Videos
Abilities Only