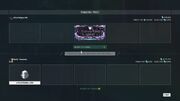 I recently had my first experience selling a Riven, I got this riven for the Euphona prime:
[Euphona Prime Toxican] + 80,3% Multishot and + 70.5% toxic
I didn't use the Riven so thougt I'd sell it. I discovered then that the market was incredibly chaotic for Rivens. I just chose a price of 200plat after looking at a few rivens scrolling by in trade chat and quickly got a response from a buyer.
Now I'm wondering: was it cheap? Was he/she just a big Euphona Prime fan? The market has no way of selecting an accurate price due to the random factor of Rivens. As someone that usually uses warframe.market to buy/sell mods and parts I think there should be some kind of in-game market that also allows for sale of Rivens, that way it's easier to determine a price for it.
What do you guys think about this? I was utterly confused at the time by the difference in prices.